9th August 2020
The official trailer is on:
http://jamesdevereaux.com/video-on-demand/
where the film can also be bought or rented.
Watching 'Distracted', with its constant contrasts, gives one the sense of being a child in a cinematic sweet shop, real and surreal, a shop designed by M. C. Escher. The audience is enticed along a hall of mirrors, catching glimpses of Melville, Fellini, Tarantino. We are never quite sure what we see, what sleight of hand is at work, what card is being forced upon us. Unlike 'Noirish Project,' viewers are no longer along for the Odyssey, but are watching a detective film in which THEY are the detectives.
As we distill the black and white linguistics from the multi-hued para linguistics, questioning motivation, method and montage, we realise there is simply too much evidence, too many layers to analyse in detail. Therefore, what follows is merely a focus on selected aspects of the film; one could write a monogram on this film that rewards repeated viewings.
I shall give a brief plot outline before offering an objective, then a subjective interpretation, the latter being the movie memories the film evokes. Finally, I shall suggest one possible reading, knowing that it is merely one out of …who knows ? Surely, a different reading(s) from each viewer. D is for duality, the black and white of the film, the intertwining of black and white elements in the characters, their disappointments, disillusions, disgust, deceptions and D is for distraction but who is doing the distracting and whom is being distracted ?
Objective:
Plot & analysis
Notice how the back light shifts, left to right, from pure, innocent white to grainy, jaded grey. Mountjoy (left) meet Baker.
DI Baker is partnered with DC Mountjoy to investigate the murder of a young lady, Zoe. Baker is due to leave the police within days and appears disinterested, while Mountjoy is desperate for a quick resolution, to help save his failing marriage. The pair interview Zoe's flatmate, then her aunt, learning of Zoe's sexual proclivities, and of an ex-boyfriend, Tony.
Baker steals some underwear from Zoe's house, and uses these to receive messages and clues about the case. Baker & Mountjoy arrest Tony and expose him to noise torture. During one session, Baker 'hears' a confession, yet it is absent when the recording is played back. Exhausted, and fearing for his sanity, Baker goes home, but is troubled by his 'visions'. He receives another message and phones Mountjoy.
Baker leaves the job, and Mountjoy thanks him for solving the murder … Tony has confessed … and for giving him a good report. Baker becomes a private investigator, while Mountjoy's success has come too late. His wife has left him.
The wrath of Baker, the "legendary," inspector, contemptuous of his Captain, preparing to leave and damn the consequences, Achilles reborn. The obsequiousness of Mountjoy as blind as Achilles' chronicler, stifled by protocol, obsessively following every rule yet unable to see reality. A detective of intuition, one of procedure, an allusion to Sherlock Holmes, 221B, an ironic play on happiness, both names comprising two syllables. Such is the world we have entered and we should be prepared for conflicts, contradictions and ambiguity, and not forgetting that every Achilles has a heel. What is Baker's ?
"I'm bored," Baker proclaims when asked why he is leaving, yet immediately undermines this assertion explaining that he really feels under-appreciated; he does the work, others take the credit. His ego demands recognition, thus his leaving will be an act of revenge.
During the investigation, Baker curtails a conversation with Mountjoy, stating, "I don't want to talk about it," before doing exactly that, "I had one of my visions, again." The 'vision' or madness issue is central to our understanding of Baker as he questions, several times, his sanity before his junior partner, displaying a frailty, foregrounding a character fault. "I'm going out out my mind," is repeated with minor variations, as Baker plays Catch 22 with himself, for Mountjoy's benefit … just Mountjoys ?
Implication over literalness; we shall encounter more of this, further on, but first a short sketch of Mountjoy, a woefully uxorious pen-pusher who is continually projecting his anxieties onto his report grading. Mountjoy is only comfortable working within rules this does, after all, negate the need for thinking. His marriage is in serious trouble, his wife making (impossible ?) demands of him: a promotion, to loose weight. Their motivations for solving the crime ? Baker's, to show how indispensable he is, Mountjoy's, to have personal and professional security. How well they work together is demonstrated when they interview Catherine, Zoe's flatmate.
The grieving friend, dressed in black but looking like a classic femme fatale or silent film vamp, seems "More than happy," with the presence of the two men in her room. She refers to herself as a "Traditionalist," with a certain amount of "Wildness," a lady who, she carefully enunciates, does not "Sleep around," (although no one inquired about her private life). She and Zoe were close, "As close as friends can be," leaving us to infer whether that in- or excluded a sexual relationship. Her whole delivery infuses every comment with a palpable sexual charge, noticeably her insistence that she is "Happy to continue," with the interview, an invitation that is repeated … and repeated.
Catherine provokes Baker at one point, mentioning that Zoe adhered to the principle of 'free love'. The Inspector visibly recoils in disgust and as this is filmed in Close-Up, we know it must be deeply significant. We've learnt a little about Zoe, maybe a lot about Baker.
At one point, Baker asks directions for Zoe's room and, after taking some panties from a drawer and slipping them into his pocket, suggests the interview be terminated. Both Catherine and Mountjoy engage Baker in a polite passive-aggressive farce of staying or leaving, Mountjoy being oblivious to the undertone in Baker's voice demonstrating how he needs things explained, needs to be told what to do. Did he once act impulsively ? Was Baker betrayed in love, and what are his intentions with the underwear ? We discover the answer to the last point shortly after … or, possibly uncover more questions.
Baker is at home when he suddenly gets pains in his head. We see a very short insert of a mouth, in colour, talking. Baker questions the voice, he cannot hear what it is saying. Then he knows what to do. He puts the panties, procured from Zoe's house, on his head and is able to 'hear' the message … except, the message is from Catherine, not Zoe. We need to retrace our steps.
When Baker excuses himself, to go to Zoe's room, we have a verbal visual cut that is, Baker asking for directions and then we see him in a room. We assume that it is Zoe's room, but let's break down the scene. Baker leaves but the camera stays in the main room, showing Catherine and Mountjoy talking, so some time passes before we see Baker, framed in a Dutch angle [1] entering a room.
Similar to 'Noirish Project', the majority of this film is shot with a static camera, therefore any deviation makes a statement: we are entering a different sphere (such as when the film suddenly turns colour and we see Catherine's mouth). Then we have another effect: the camera fades to black, momentarily, and fades in with Baker standing at a chest of drawers. More time has passed. We presume it is Zoe's room, but it may well be Catherine's. No matter how close the flatmates were, it is more reasonable to suppose that the message would come from the owner of the clothes.
Baker's legendary powers have been revealed. The agony it appears to cause him also gives him the insight to ask the right questions to unlock cases. Elementary ? far from it …
We have heard the message before, when Catherine was talking to Mountjoy. Baker wasn't in the room but he may well have overheard the conversation while he was in one of the bedrooms. The audience already has this information. However, this 'involuntary memory' triggers another. He phones Mountjoy and mentions a diary he saw on Zoe's bed. In the bedroom scene, we do see Baker look off-camera but, typically, we do not see the object of the gaze. If it were the diary, then he would have been in Zoe's room and therefore the panties would logically be Zoe's. The 'vision messages' are in fact nothing more mystical than recalled conversations from his subconscious.
So why does Baker take the underwear ? Is this the Achilles heel, a fetish that stops him from looking at Zoe's diary, a valuable piece of evidence ? A shop designed by M.C. Escher, indeed. Where is this taking us ? Clearly, as with all great mysteries, we are not going to find out in the first act. What will we encounter along the next hall of mirrors ?
Subjective:
Czech New Wave & David Lynch
Cineastes are very generous people, enthusiastically sharing new films, and when they become directors, they love to put film references, blatantly or subtly, in their movies. In 'Distracted', I noticed several such references, but two seemed to permeate the film: the work of the Czech New Wave, and that of David Lynch [2].
I detect an old Eastern Bloc atmosphere, not throughout the entire film, but certainly in the police station scenes. The rooms are bare, only the most basic furnishings, pipes are exposed and the telephone, rotary dial (as shown in the first still) doesn't work. Later we will see recordings made on a reel-to-reel, while Baker's small sports car looks magnificently retro.
The station is predominately white, the darker secrets of the interrogations rooms, the criticisms of the broken system, the shortages and shortcoming whitewashed over. Just look at how shocked Mountjoy is when he hears Baker speak the unspeakable.
Baker knows he will not raise above the rank of DI. Maybe his results are applauded but not his methods. Maybe he is simply not a party member, and he has to take orders from those who are loyal to the State, regardless of ability. Totalitarian states are not known for being meritocracies.
Czechoslovakian filmmakers infused their art with the national characteristics of humour and irreverence, shifting from realism to surrealism, splicing in (seemingly) unrelated images, and mocking the oppression that governed, then dictated their lives. Baker's "Captain" represents the hierarchy, the government, the system.
Although the Captain is not shown, I imagine him as a character from Miloš Forman's 'The Fireman's Ball' (1967), bungling and awkward, comically incompetent. However, two other films could help us decode more about the sidekick Mountjoy.
The sudden insertion of colour shots, the striking Close-Ups of Catherine's mouth, and the contrasting colours of the heretofore unmentioned Battenberg cake remind me of the wildly surreal 'Daisies' (1966) by Věry Chytilové while the seemless moves from reality into dream, inner thought or allegory make me think of 'The Cremator' (1969) by Juraj Herz. The film uses techniques from these two film to ingeniously relate Mountjoy's backstory … and tell us more about Baker.
Mountjoy's backstory
I will define surrealism, for this essay, as the incongruous combination of two everyday items, here, a walk in the woods, and a man selling cakes from a makeshift stall. Mountjoy shows us, symbolically, why his marriage is failing. He is enticed, siren like, to the cake seller, and easily persuaded, so easily tempted to partake of this 'forbidden fruit.' His wife has imposed a diet on him but, as the seller points out, "Your wife isn't here, now." Having no money, Mountjoy immediately barters his watch, a "Solid gold," watch, a wedding present, for some transitory sensual pleasure. The symbolism is obvious; Mountjoy had an affair, which his wife discovered.
"What have I done ?" Mountjoy cries, as the cake-seller runs away with the watch, "It was a mistake, just a silly mistake," but one that can't be undone. A marriage destroyed, ironically, by a piece of Battenberg, a cake invented, amidst Victorian values (and hypocrisy), to celebrate a wedding [3]. In this sequence, DI Baker helps Mountjoy, returning the watch to him, which could be read as Baker saving Mountjoy's marriage. At any rate, we are not yet finished with our cake-seller; he shall return.
A final nod to the Czech New Wave is the Cacophony Room, a special area of the police station where Tony is taken and exposed to noise to 'encourage' him to be more open about Zoe's murder. The scene reinforces the earlier similarities to a non-democratic society as Tony has no lawyer, and the police seems to operate without rules or supervision. Reel-to-reel recordings are easy to erase. Furthermore, despite the scene showing a suspect being coerced into confessing, even tortured, pleading "No more cacophony !" the scene is more comic than shocking, especially when the film is speeded up and we see Tony rolling along the floor, covering his ears. Another example of Czech black humour. Now, let's use the cacophony to lead into a director famous for his innovative use of sound in film, David Lynch [4]
Each man delights in the work that suits him best
The links to 'Twin Peaks' are immediately apparent; the murder of a young lady, off-screen, and the subsequent investigation, a diary, a map to a secret place in the country. We encounter a range of idiosyncratic characters, each one appearing to have an interesting story, or two, of their own. As has been frequently mentioned on Twin Peaks posts, we don't care about Laura Palmer, we only care about who killed her. In 'Distracted', we don't even really care who killed Zoe. Our attention is on Baker and his methodology and, to a lesser extent, Mountjoy's domestic soap opera.
Additionally we have the main detective receiving messages in dreams or visions while, similar to many Lynch productions, there is an element of surrealism, of ambiguity, of uncertainty. Viewing 'Mulholland Drive' (2001), a second time is different to the first due to the information we later have, think we have, might possibly have. Our third has the same effect on our second … and so on [5].
Having said that, the experimental side of 'Distracted' is much more restrained. As with the Czech similarities they merely reflect my own feelings and tastes. Allow me one final comparison.
For me, the main Lynchian touch is the use of sound, although with a dramatic difference. Noise, effects, a non-musical soundtrack helped define 'Eraserhead' (1977). Conversely, both 'Distracted' & 'Noirish Project' are notable for their total absence of music, just minimal ambient diagetic sounds so the use of sound, of experimental noise as a torture, is especially germane.
Finally, and again, this is my impression, the cake-seller is not unlike a character from 'Twin Peaks', is not physically dissimilar to the Fireman, as like him, he holds clues for the audience … vital clues, so now it's time for me to deliver my verdict.
Conclusion
I do not believe that Baker has occult powers, or can receive messages. I base this on the fact that what we hear is merely a repetition of Catherine's dialogue with Mountjoy. However, Baker does appear to hear something. Let's go back to our cake-seller. The two meet in the country and have a little banter. Maybe the seller doesn't just retail but also makes the cakes, he is, in fact … a baker. We have Baker talking to a baker, ergo a man talking to himself.
Baker's weakness, his Achilles' heel, is his mental illness. He is leaving the job for this reason, despite the blasting and bombardiering. He mentions this throughout the film, and we can see his 'trance-like' states as physical representation of this. Yet, doesn't Baker mention his disability too often ? In a film so complex, isn't this answer just a little too convenient ? Our work is not yet complete. Back to our notebooks.
Baker has 'incidents'. They must be genuine because there is no one else in the room, no one watching, no one that is … except us. All the time, it is the audience that has been distracted. We have been lead up and down this Escher-like narrative, listening to voices that aren't really there (hence the telephone that rings but has no one respond when picked up). Watching a full-grown man with panties on his head dance around, reciting nonsensical words is, at the very least, liable to attract our attention … to distract us, but distract us from what … the truth ? Baker's success is down to his method, not his madness. He gets confessions by coercion.
The coda ? Mountjoy receives his watch back from Baker in the country, but this has a different symbolism. Mountjoy is now taking the baton from Baker, he will become disillusioned and cynical, as indicated by our last scene of him … drinking Bells whisky, the same brand Baker drank when they first met.
As for Baker, he moves from catching criminals to catching cheating spouses being too free with their love. A bit of revenge on cheating wives ? He seems a man in pain, so maybe that explains his methods of extracting confessions. But, it's not really him, and it is certainly not helping, so that is his real reason for leaving. Now, he is free, no tie and no ties. He can choose his working hours, and methods and no one can tell him what to do. He has his book, the sun is shining and he is free. At last, he is free.
The illogical logic of M.C. Escher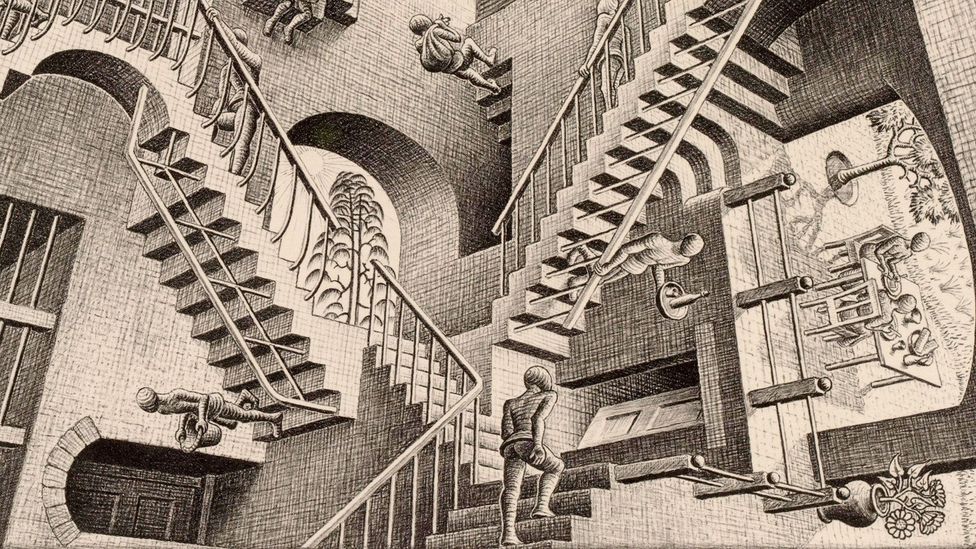 [1] The Dutch angle is usually credited to Dziga Vertov's 1929 'Man With A Movie Camera', but have a look at Teinosuke Kinugasa's 1926 'A Page of Madness', a silent that, like Murnau's 1924 'The Last Laugh' does away with inter-titles. All three are amazing films, maybe a subject for a future blog.
[2] There are even some connections between the two, as Lynch likes experimenting with film, and many Czechoslovakian films were abstract, surreal and experimental. Lynch has also worked with the City of Prague Orchestra, while in 'Twin Peaks: The Return', a poster of Franz Kafka prominently hangs in Gordon Cole's (played by Lynch) office. I don't attach any significance to these, it just an interesting coincidence for cine buffs.
[3] The cake, from 1884, is generally thought to have been invented for the wedding of Queen Victoria's granddaughter, Princess Victoria and Prince Louis of Battenberg, though not all historians agree.
[4] James and I share similar tastes in cinema, but occasionally we diverge, and I believe this is such an example. I'm a Lynch fan (with reservations, naturally), but I'm pretty damn sure James is not so impressed by him.
[5] By the same token, watching 'Distracted' affected my view on 'Noirish Project'. It will be very interesting to see the final film in the "triptych."