17th June 2021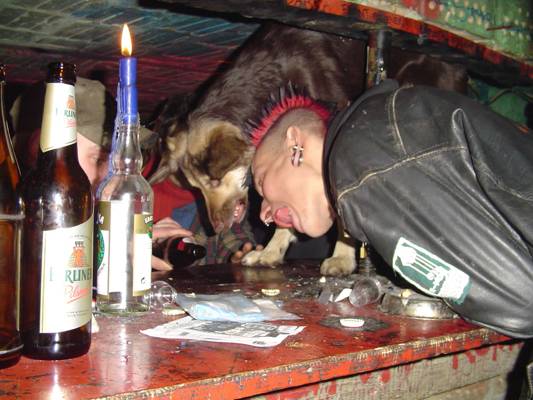 Part Eight. Berlin. August 1995
While Alan Francis was having the time of his life in Berlin, Chris and Richard were about to have their worst.
Richard's summer was destroyed by his job. He was starting an hour earlier and finishing an hour later, but the extra money was no compensation. Most nights, after working seven hours straight, he went straight to the Czar Bar, and drank as much as he could.
In Chris, in Berlin as in London, he had a willing drinking partner.
Regarding Monika's request, Richard had dreaded passing on the cease and desist, thinking it too personal, and he really didn't want to get involved.
He decided to do it at the first opportunity, to get it out of the way, and, to his surprise and relief, found that Chris took it very well, even nonchalantly. But the reason he did so would lead to even bigger problems.
"It's Veronica," Chris explained. "Can't stop thinking about her. Even if I could, I see her all the time."
"Veronica ? Johan's Veronica ? Oh, shit !"
"Yeah, oh shit ! I love Johan. I do."
"Just love Veronica more."
"It's not funny."
"I know. Well, what you gonna do ?"
Chris threw his hands in the air, signifying his lack of ideas.
What he did was to drink. A lot.
Initially, he was daunted by Jake and his capacity for alcohol. Now he tried to match him. As a consequence, Jake had to close up alone as Chris would be passed out, somewhere in the bar. He would go to gather shot glasses, or empty bottles and just not return. Jake at first didn't mind, even found it amusing, but as it happened every shift, the joke was wearing pretty thin.
Yet, Jake couldn't deny that Chris was good for business. He got the crowd laughing and drinking, and the weekly Sawhead The Bear concerts had brought in a lot of new people and made a significant increase in takings. The band could even get a small fee as well as free drinks.
On balance, Jake tolerated Chris' drunken behaviour and laughed at his more outrageous antics, laughed at Chris' pathetic hopeless doomed attempts to keep up with him. Yet, Chris did have some 'marketing' ideas which were proving doubly beneficial.
One such innovation was to offer free vodka shots to any woman, provided it be administered mouth to mouth, either by Jake or Chris. Surprisingly, they both got takers, though when Johan asked for a free shot, Chris declined.
"Ah, you fucking English, so scared of love!" Johan laughed, as he ordered a whole row of vodkas for friends and anyone else who happened to be seated around the bar.
Chris, of course, was hoping that Veronica would take him up on his offer, but she hardly drank, preferring orange juice or maybe a single beer, and she didn't seem willing to try a free vodka.
Daniel, meanwhile, was living something of a double life. He worked hard all week, maybe had a beer or two with workmates just to be sociable, and made it to Ostkreuz once or twice. Saturdays, he rehearsed with the band (Micha and Serge agreed to work the lucrative Friday evenings so both Andrei and Boris would be fresh for the gig) then played the concert, after which he always went off with a new woman and reappeared on Sunday, to give a graphic account of the experience and to hang out, before returning to his normal weekday existence, normal that is by Berlin standards.
One Sunday, Chris had requested that Richard meet him in another squat bar, one tucked away south of Karl Marx Allee. Chris was going to see Pavel, a Czech squatter who was responsible for the bar. Maybe Sawhead The Bear could play there, get them out of the Czar bar; different venue, different audience.
Richard didn't know the bar or the area, so was a little late, a little hungover and very pissed off at the thought of another week working as a Steglitz Spüler.
He walked up the metal steps and saw Chris at the bar.
"Yeah, all set, Sawhead play here next Saturday. Only they want some more bands, make a whole night of it. I mentioned Arizona Al."
"Fuck, you sure ?" asked Richard, "he's not exactly . . . "
"Any fucking good, yeah, I know, but give the fucker a song or two. Either him or those fucking cunts from the first Sawhead gig."
"Maybe we could get The Wiggling Kellys ?"
"I'd like to see them," Chris agreed. "They've got a band or two here, some bozos called Perry Coma. Death ballads, I guess."
Richard suddenly got a laughing fit. Chris thought it was due to his joke, but, when Richard finally got his breathe back and wiped the tears away, he explained,
"Did I hear you use the word, 'bozo' ?"
"ssss . . . bozo-sssssss. Plural, as in more than one of them, Bozo and his bozo friends. Whole place is run by bozos. Whole fucking city is full of bozos. We, my friend, are in one bozo-friendly environment."
"Perry Coma's kinda funny too."
"They don't even know they're being funny. They've got no fucking idea some guy's actually called Perry Como."
Richard had a feeling that they were here and not the Czar Bar for other reasons, as well.
"Yeah, OK, just couldn't face Danny going on tonight about how he pulled and what he did and what she did and how many times he did what he did and how much she liked what he did when he did what he did to her."
The beer that Richard was drinking went all over the bar and poured out of his nose.
"That guy certainly has the moves," he said, wiping the beer away as best he could. "I could learn a lot from him. I know he's a singer, but he's not especially attractive or has a sparkling personality. Nice enough guy, but, I mean . . . ?"
"Exactly, I know what you mean. He's a bit of a yob. A thug. But, everytime he gets talking to a woman, whatever he says, it works, 'cause next thing you know, his tongue's down her throat and his hands are homing in on the good stuff."
"Oh, thanks, I needed that. Haven't had a laugh like this for . . . I don't even know. Work's fucked. Bunch a fucking cunts, all of them. Have to leave, got to find something else. Anything else."
"Yeah, do it."
"I have to. Can't stay here, otherwise. Have to leave."
"And do what ?"
"Well, that's the fucking problem. No matter how bad it is here, it's a quantum leap from what it would or will be back in London."
"You boys shouldn't be so cynical."
The boys stopped talking and laughing and turned around. A punk squatter with her hair in pigtails, and ripped tights sat down between them. Her accent, despite her clothing, placed her from the Home Counties, somewhere close to London but not too close.
Richard asked her what she meant, but she refused to elaborate, instead choosing to criticise the music.
"Oh, Nirvana; are people still listening to him ? He's dead, move on, get over it. I fucking hate Nirvana."
"Really ?" asked Chris incredulously,
"Hate them."
"Why ?" demanded Richard.
"Because my name's Polly, and those unwashed bastards have fucked up my life."
And then, right on cue, a tall, unwashed bastard walked in, saw her and asked,
"Hello, Polly, want a cracker ?"
"Fuck off!"
Polly soon got bored of her two compatriots, even though Richard was wondering if she was hitting on him, and left because he wasn't responding. He asked Chris for his views. Chris puffed himself up, before pontificating,
"Uuummmm . . . hard to say. Don't think so. Would you like to fuck her ?"
"Wouldn't mind. Not my first choice, but, hey . . . she was kinda cute."
"Uuummmm … Nice rack. Breasts."
"I know what a rack is. OK, I thought a 'rack' was ass."
"No, I'm pretty sure it's breasts," and Chris looked around, searching for anyone American-looking. "I'll ask Jake. He's a Godsend. He understands all the R.E.M. lyrics. Who the fuck's Mr Fred Blassie, and why is he such bad eater ? Just ask Jake."
"Cool. I could have pulled that Polly. Oh, who am I kidding ? I tell you, next time Daniel goes to work, I'm gonna be right there, making notes. Any more about Veronica ?"
Chris let out a long sigh,

"She's an art student."
"Another one ! What is with you and … Is she more Ute or Melanie ?"
"No ! Not like Melanie, not like that sphincter-mouthed, Ninja Turtle. A real art student. Actually draws and paints, not just reads books and regurgitates other people's opinions. She showed me some of her paintings."
"'Sphincter-mouthed' ? Didn't you kiss her ?"
"No ! No, no, well . . . yes, but . . ."
"OK, back to the art. Any good ? Her paintings ?"
"What do I know, I'm a science student. No, they were good. Abstract, but with . . . form."
Richard laughed and ordered more beers. Chris carried on,
"She's got a friend coming, too, Italian girl called Carla. Another student."
"Is she cute ?"
"Is she cute ? What, like that fucking Psycho Polly ? Is she cute ? She's a friend of Veronica's, she's an art student, she's fucking Italian, yes, she's fucking cute. Something else, too. I happen to know that Johan is going away soon, back to France. For two weeks. Maybe more. Think that calls for a vodka."
They got more drinks and toasted Veronica and Carla (sight unseen).
What they didn't know was that soon, they would both act in such a way that Richard would be afraid to go to work, and Chris would be afraid to go back to Rigaer Strasse.