17th November 2019
E Up 5 U 8 L2 pp. 74 – 75
Geeks, nerds and dorks – these are words for people who really understand computers, or play computer games all day. Maybe most of their life is spent online.
WHAT DO YOU THINK ? DO YOU SPEND TOO MUCH TIME ON COMPUTERS ?
What are computers good for ? Why could they be bad ?
Here we could board the pros and cons, just to get the students talking.
Then an unscramble game: What are these websites and what are they for ?
espyk // nsgtarmia // oftsypi // uubotye
Vocabulary review:
I always play music in my class. If I like a song I will ………………… the volume
When I finish checking my emails, I ……………… from Google
If my manager thinks the song is too loud, I have to ……….. the volume
At the end of class, I always …………………. the computer.
Let's compare – the past and now:
Can you crack a code ?
I will write an animal in code … can you tell me what the animal is ?
dbu
What animal is this ?
Look at the first letter – 'd'. what is the next letter in the alphabet ? … e. The next letter after b is c, and after u comes v … so we have ecv – but that is not a word. Instead, go back a letter each time. Before d is c, before b is a and before u is t. Therefore, we have 'cat'.
In groups, students make their own coded animals. Using the same pattern (the letter before), put these animals into code:
goat // dog // elephant // Godzilla
But what happens if the code has no pattern … and it is changed every day ? That is exactly what happened during World War II, and the German Enigma machine.
Germany was winning the war in 1940 and 1941 … only the UK were fighting them
The Germans were sending secret messages in code. This video explains the Enigma machine:
https://www.youtube.com/watch?v=-qcOCBfRRzg&list=PL97HViQblvdEM3zsauRxnIg1baFTNmsDM&index=29&t=0s
Some of the greatest scientists and mathematicians tried to break or crack the code. Remember … they only had one day because the code was changed at midnight. The scientists worked outside of London at Bletchley Park
Many people worked there but the most famous person today is Alan Turing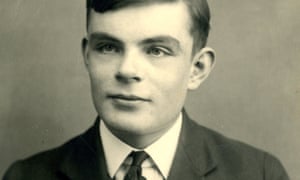 Can you crack a complex code ? I have made a random code which I will give to the groups. They have to break my code and read my message. The coded message is:
LWM QM IWV
If that is easy, then try this:
VE MAEWJQVK QV YURMM
To review recent vocabulary, I can ask the students if they have finished yet ?
Finally, before the book work, students can ask each other what they use computers, smartphones or tablets for. Personally, I upload photos, post them on Instagram and Facebook, listen to music on Spotify, chat on Skype and Viber as well as using Grabbike to book my ride home. Moreover, I write these blogs.
What do you think of these ?
And this song:
https://www.youtube.com/watch?v=OQIYEPe6DWY
And next week, our penultimate lesson, extensive reading – 'Just a minute'