4th November for 5th November 2019 AEF 10A, pp. 94 – 95
Tonight we'll discuss modern icons, titans of the business world, in both USA and Vietnam. It'll be no surprise that Steve Jobs and Mark Zuckerberg, who are both from the USA, are included although Vietnam also has a number of wealthy, super-rich who may not be as well known on the global stage. However tonight, which is a special day in the UK, we'll warm up with the story of Guy Fawkes whose image is now iconic. He is part of the history of London where I was born. If you don't know the name, maybe you'll recognise these:
In 1605, a group of people wanted to blow up (like a bomb) Parliament (where the government meet) during a visit from the King. The group were caught; Guy Fawkes was discovered in the cellar of Parliament with 36 barrels of gunpowder. All the conspirators were executed for treason.
A good history, with notes for English-language learners, can be found here:
https://www.youtube.com/watch?v=soe8Z_Ej4Ck
This event is celebrated with bonfires and fireworks: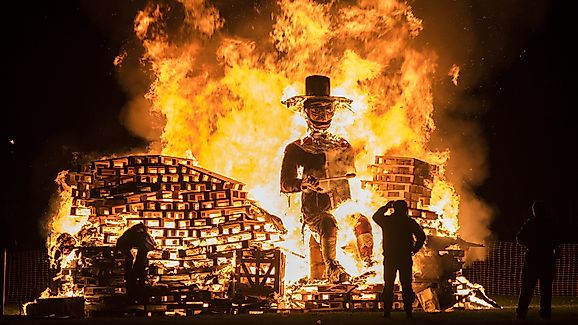 Here's an example of what happens:
https://www.youtube.com/watch?v=2OttNo41ab0
Now, without further ado, tonight's lesson: modern icons and, for grammar, relative clauses, hence the bold font earlier on the words who, where, which and whose.
I'll be honest with you – this can be a little complicated, although it should be easy:
Relative pronouns
Who // for a person. Mark, who is from Chicago, is working in Ha Noi
Where // for a place. Ha Noi, where Mark works, is in north Vietnam.
Which // for a thing. The guitar, which is Japanese, was a bargain at £35.
Whose // possessive. The man whose guitar was stolen was very upset.
So far so good BUT … check this out:
London, where I was born, is the capital of the UK
London, which is in the south of England, is my hometown.
In a practice, we have an example similar to this:
London where I was born is the place which I love the most.
I've tried to think of a way to explain this in clear simple English … here goes !
In the first clause (London where I was born) we can ask "Where were you born ?" The answer is London. However, in the second clause (the place which I love the most) try the same pattern … "Where do you love the most ?" Here, the answer is "The place." That is not a suitable answer – it is not a real location, so it becomes a thing – therefore we use which.
Oi troi oi ! English grammar !
Now, let's put it into practise.
Mark Zuckerberg: born 1984 in NY, USA. Studied at Harvard. Co-founded Facebook. Net worth estimated at 70.3 billion USD (wow !).
Mark Zuckerberg, who was born in 1984, grew up in NY state which is in the USA. Harvard, where he studied, is the oldest university in the States (USA). Zuckerberg, whose net worth is estimated at over 70 billion dollars co-founded Facebook which is used all over the world.
Speaking of Facebook, one of my favourite films is 'The Social Network' about how the company was founded. The film, which was made in 2010, is scripted by Aaron Sorkin who is, in my opinion, a fantastic and highly talented writer.
Now try with Steve Jobs: born San Francisco // was a college drop out // first worked at Atari, a video games company // Apple computers were the first to utilise a mouse // co-founded Pixar in 1986 (what is Pixar ?) // died 2011, aged 56.
Now … team work. Class in two teams and they have to make a presentation about two Vietnamese business icons: Pham Nhat Vuong & Nguyen Thi Phuong Thao.
Students may use the internet and their own knowledge to tell me about these icons.
https://www.citypassguide.com/blog/vietnams-richest-business-people
Give me the facts (where and when were they born, how did they get rich, what is their area of business ?) and use relative clauses to produce longer, complex sentences.
Students may, indeed I would encourage them to, use the internet and projector to bring their presentation alive. All members of the team must speak.
Team discussion:
Last week we covered negotiation language, phrases such as, "I see your point, but …" "I'm not sure I entirely agree with you," "That's interesting, however have you considered.
Today, the topics will be:
Do people spend too much time on Facebook ? Is it a good or bad thing ?
I need a new laptop; what should I buy, an Apple or Windows ?
I want to hear different points of view and people playing Devil's advocate (arguing or making a point, even if you don't personally believe it … just to encourage the opponent to develop their idea).
To encourage students, and to give them lexical resources, elicit some answers and ideas first, and board them, as well as introducing new concepts. What are the pros and cons ? The decisive factors ? What points should I consider.
With Facebook – is the answer binary (yes OR no ?) … it's more interesting to discuss the middle ground, and illustrate it with personal examples.
I recently went on a short break to a nearby beach resort where I took many photos. I need to upload them to Facebook … or do I ? Does anybody REALLY care ? Can I really afford to spend the time doing it ? Or is it relaxing and pleasurable ? Does it enable my European friends to see a little more of my life here in Vietnam … what do YOU think … ?