23rd January 2020
Various exercises and features aimed at science professionals, mechanics and engineers.
Contents
Engineering fails
Heat transfer
The internal combustion engine
Reading exercises: condensing text, looking for relevant information.
Turbulence
Engineering fails
Engineering fails – bad engineering decisions and designs: https://www.youtube.com/watch?v=qPhVZExcGXg
Heat transfer
These are three methods of heat transfer.
Explain what is happening in each case (situation).
What method is used by:
The sun
An air-conditioner / radiator
Heating water in a can by fire.
The internal combustion engine
How does a car engine work ? Watch this video and then explain: https://www.youtube.com/watch?v=DKF5dKo_r_Y
Vocabulary / jargon / engineering terms:
crankshaft piston / piston rods / valves / cam shaft / timing belt
tension pulley / idler pulley / momentum
What does four stroke mean ? What does crank to camshaft ratio mean ?
What are spark plugs used for ? What stops the crankshaft stopping ?
How is this different from a diesel engine ?
Starting an old car
From 'Top Gear': https://www.youtube.com/watch?v=rWTcPdYfsAc
Why is it hard to start these early cars ? Where was this car made ?
New vocabulary:
particular / original / hill-start / rapidly / brutality / you what ?
Firstly, a look at some vintage cars:
According to the National Motor Museum, Beaulieu, United Kingdom, the definition for each category is the following:
Veteran– officially a car made up to and including December 1918.
Vintage– officially a car made between 1919 and 1930. Although, the term is often used to describe any car made before World War II.
Classic– generally any car that is no longer in production that is still popular. For classic car events organised by the Motor Sports Association (MSA) eligibility is set at 20 years. Generally this term is applied to cars from the 1940s, 1950s, 1960s and 1970s. However, no definition is universal.
Turbulence
When I flew from London to Sai Gon, I experienced light turbulence: https://www.cbc.ca/news/technology/turbulence-air-travel-1.3385566
There is some great new vocabulary in this article, as well as expressions and collocations ('potentially dangerous' / 'do their best').
What are the causes ? Can turbulence be predicted ? How do air-traffic controllers gather information ?
Reading exercise
Selecting important information
We want to condensethis article so we only need the main facts:
This is about the British engineer Isabard Kingdom Brunel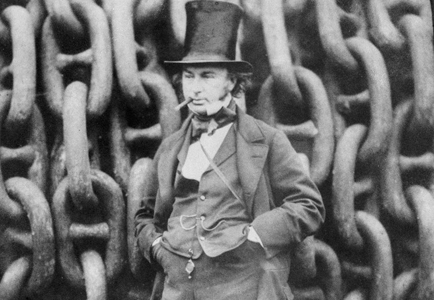 Isambard Kingdom BrunelFRS(/ˈɪzəmbɑːrd bruːˈnɛl/; 9 April 1806– 15 September 1859), was an English mechanical and civil engineerwho is considered "one of the most ingenious and prolific figures in engineering history","one of the 19th-century engineering giants",and "one of the greatest figures of the Industrial Revolution, [who] changed the face of the English landscape with his groundbreaking designs and ingenious constructions".Brunel built dockyards, the Great Western Railway, a series of steamships including the first propeller-driven transatlantic steamship, and numerous important bridges and tunnels. His designs revolutionised public transport and modern engineering.
Though Brunel's projects were not always successful, they often contained innovative solutions to long-standing engineering problems. During his career, Brunel achieved many engineering firsts, including assisting in the building of the first tunnel under a navigable river and development of SS Great Britain, the first propeller-driven, ocean-going, iron ship, which, when built in 1843, was the largest ship ever built.
Isambard Kingdom Brunel (1806-1859), was an English engineer who is regarded as a major figure in engineering history. His designs, which were considered ground-breaking and ingenious, included bridges and tunnels, railways and ships.
Despite some engineering fails, he was an innovator and achieved many firsts in enginnering. His ship, the SS Great Britain (1843), was the largest ship of its time.
Now, your turn:
Landmark 81
How to look for important information. Read this Wikipedia entry and re-write in just 3 or 4 sentences, inclusing only the most important information.
Landmark 81 is a super-tall skyscraper in Ho Chi Minh City, Vietnam, that was designed by the British design, engineering and consulting firm Atkins.The investor and primary developer for the project is Vingroup, a Vietnamese corporation that is also the country's largest real-estate company. Landmark 81 is the tallest building in Vietnam, the tallest completed building in Southeast Asia as of July, 2018 and the 14th tallest building in the world.
The 461.5 metres (1,514 ft) tall, 81-storey building is built on the western banks of the Saigon River in the city's Binh Thanh District, located just north of Ho Chi Minh City's historic center and to the immediate south of Saigon Bridge. The tower is at the heart of the $1.5 billion high-end mixed-use urban area called Vinhomes Central Park, and was scheduled to be inaugurated in July 2018. The development comprises hotel and conference facilities, luxury apartments, high-end retail spaces, restaurants, bars, and a multi-story observation deck at the tower's crown.