30th December 2019
This is the eve on a new IELTS class, utilising a new text book, and the first lesson is …listening. When I ask students (and they make the effort to reply) what is the hardest part of learning English, understanding the spoken word is invariably top of the list.
As with all skills, practice is the obvious answer, starting slowly, then building up and improving. Naturally, language skills are integrated; a knowledge of 'chunking' – or linking words together and natural contractions will be extremely beneficial. Likewise, the more vocabulary the student knows, the more chance they have of understanding what is being said.
The key problems are straightforward:
Speed of conversation.
Chunking, contractions, natural speech patterns (which differ markedly from the written word).
Accents (both native and non-native).
Unknown vocabulary.
Dialects, slang words, expressions, idioms … figurative not literal language.
Cultural references (subjects only known by local people)
This blog will feature various videos of people speaking English. I have suggested a number of teaching sites and videos on a former blog: https://thaypaulsnotes.com/2019/01/23/listening-skills-tips-and-links/
Now I will concentrate on 'real-world' examples, videos aimed at native speakers, not for English students.
I choose these videos to illustrate the whole world of spoken English; no disrespect is intended to anyone who speaks in a non-standard way, or is struggling with pronunciation. On the contrary, anyone who can converse in a second language has my utmost respect … it is a skill unavailable to the writer of this blog 😦
And now, without further ado, lets's kick off with my hometown. Here's some native Londoners having a chat (talking):
Native speakers in central London:
https://www.youtube.com/watch?v=OjEkotGQxzA
The subject of this video – which has useful captions, or subtitles, in English – is 'which possession would you never lend to another person ?' You will also be able to see some famous London landmarks.
TIPS: watch the video is short sections – maybe just in ten-second sections – repeat and repeat until you feel familiar with the words and are able to repeat them.
Street trader – London
Next up, a street-market trader. Here, the trader has to project his voice, to attract customers. It's a mixture of commerce and performance: https://www.youtube.com/watch?v=Sw94R0P2dOs
An additional benefit from watching real-life videos is that you will pick up many expressions that you will simply not find in text books. Remember, many speaking tests give extra points for 'natural language'. For example, the trader uses the phrase, "On and off," meaning he has been doing the job but not continuously. Let's say I have been teaching for ten years, but during that time, I took some long breaks, to study, to travel etc. I would say,"I've been teaching for ten years, on and off."
You will also notice how 'real' people often deviate from standard English. In this clip, the man says, "Me and my wife have been …." though the 'correct', the standard form would be, "My wife and I have been …". This merely illustrates that text guides are just that … a GUIDE … they are not real life. To learn English, to really learn, you must immerse yourself in videos, music, films and, dare I repeat myself (yes, I dare) PRACTICE.
British English speaker, Asian theme: east meets west
This is a favourite clip of mine, a British beer enthusiast trying a Vietnamese beer. This clip introduces new vocabulary relevant to beer ('head', 'aroma', 'carbonated', as well as some good expressions such as, "More than likely," and, "Let's dive in."
https://www.youtube.com/watch?v=rKr6Cj-Xr9g
It's Beer o' clock !
I have a friend in the UK who likes, no … who LOVES beer. His passion is to review beers from around the world, and today, he tries Sai Gon Red.
What does he think of it ?
Pay attention to his body language, facial expression and intonation.
Listen out for adverbs ("I quite like the idea of drinking VN beer …")
New vocabulary:
the channel – his personal YouTube. A TV station. In the USA, there are hundreds of TV channels.
regular – normal
aroma – smell of food or drink. Positive, a great smell.
head – the top of the beer
haze – fog, mist, not clear
carbonation – addition of CO2 to make it fizzy (like Cola)
awful – very bad, terrible, horrible
suggestion – a little idea, a little bit of something
whatsoever– adverb (England have no chance of winning whatsoever)
Expressions:
'coming in at' – when he tells us the alcohol percentage. This expression can be used for any measurement – the new iPhone X comes in at 25m VND.
'More than likely' – very probably.
'A tiny pinch of' – a very small amount of something.
'Let's dive in' – let start, let's do it !
'Oh, blimey' – oi troi oi ! Oh, dear, OMG !
'comes through' – can see or sense something.
'I'm gonna have trouble finishing it' – it won't be easy to drink it all.
'I think we'll call it quits there' – time to stop.
'I'm gonna give that one outter ten' – I rate that one star out of a maximum of ten.
'I'm afraid' – I'm sorry (We have no more milk, I'm afraid).
Break down the speech into metaphors, expressions and new vocabulary (head, aroma)
Metaphor / Expressions / Vocabulary / phrasal verbs
Reported Speech
Direct speech: "It's a false carbonated beer." (it is a = present tense)
Reported speech The man said it was a false carbonated beer. (was = past)
For reported or indirect speech, we put the verb into the past tense. No speech marks.
Now lets go to the other side of the pond (across the Atlantic from the UK to the USA) and listen to some examples of American English:
Teaching Scenarios (USA)
https://www.youtube.com/watch?v=D7vmzvUTwag
I'll ease you in softly; this first clip is designed for English learners, and has a variety of different scenes, actors and situations, all intended to prepare you for the variety of American accents … and in such a big continent, there are a wide variety of accents.
Is this easy to understand ? Do you notice any differences between the London accent and the USA accent ?
Same tip, watch as much as you can, pause, try to copy, say the words, then continue. When you feel confident, turn off the captions and see how much you are able to understand. Do not expect to understand everything. Maybe you will only understand half, but see how this figure increases with practice.
TV show, American accent.
This is from a USA sit-com called 'Friends' (1994 – 2004)
http://www.videosinlevels.com/people-do-chandler/
In this short clip, some friends are joking about the way one of them speaks, putting the stress on the 'wrong' word in a sentence. Again it has captions, so listen and … practice !
But now, time to turn it up a notch (make it harder). This clip is advanced, the speaker is very enthusiastic, very quick. and uses a lot of everyday phrases you will – more than likely – not know. Therefore, a quick pre-teaching session:
recommend– to suggest something good / something YOU think others will like
aside from– something else, apart from
staple food– food that can be part of every meal (rice, bread, potatoes)
drowned– totally covered in a liquid or sauce
popular– something many people like (negative form is 'unpopular')
original– the first of something. Adverb is originally.
mix– adding two or more things together. Mixed is the past tense.
tons of– lots of (slang, common) e.g. Ha Noi has tons of coffee shops
amazing– adjective means really great, very special.
districts– areas of a city (Quan)
snack– eating food to stop you getting too hungry. Verb – snacking.
super– common adverb to mean very, very much e.g. Sai Gon is super hot.
New Vocabulary (Berlin 5 food):
https://www.youtube.com/watch?v=0aE6hW9Z09w
This video exemplifies all the problems students have listening to English: the vocabulary, the accent, the linking together and the sheer speed of speech. Don't worry … apply the same principles; watch in small sections, read the captions, repeat and repeat until you feel comfortable. Remember – you don't have to understand every word, just enough to follow what he is saying.
And now, let's go to a land down under and listen to some different forms of English. This time, Australian:
Again, let's take it easy to begin with, learn some Aussie (Australian) expressions and listen to the local accent:
https://www.youtube.com/watch?v=nDWsVXurkj8
This lists ten expressions that you may have heard in films or TV shows. But now it's time to put them into practice. Here's a genuine news story. Without using text or captions, how much can you understand ?
https://www.youtube.com/watch?v=9QCgqQdmr0M
The clip is called 'Australian Hero' so that should give you an idea.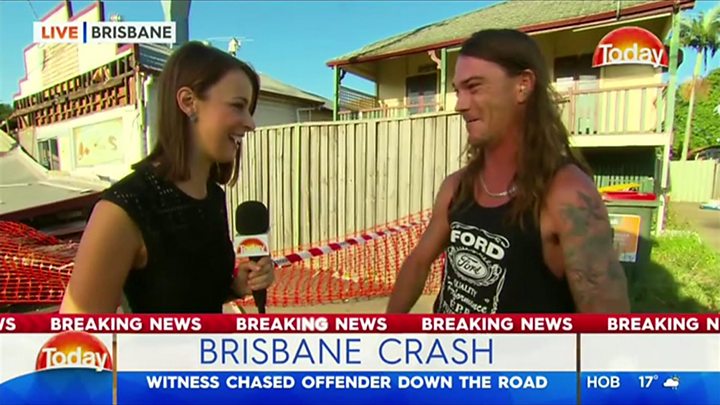 Bringing It All Back Home – an Australian in Vietnam
This ex-pat (someone who has emigrated from country and now lives and works in another) from down under (Australia) is going to show us where he lives in Sai Gon, District 3 (near the city centre) (0:22 – 0:45):
https://www.youtube.com/watch?v=5Qw_9HIU850
Listen for expressions, adverbs & adjectives
(He starts by saying he had some camera problems):
"Hopefully I've got that all sorted now and I can give you a decent tour of the …um, the apartment.
"It's a really nice er, street here, sort of early morning and it's quite a hustle and bustle. Here we got office workers coming out to eat and what have you.
"Ah, I'll just take you into the er, where is this ? This is the actual building, here, and er … and this is where I actually, er … down, gotta (got to) go through this alley, it's very congested … and this is how I get to where I live."
And now the fun begins !
Quite possibly, the majority of my students will be using English as a lingua franca with other non-native speakers. I therefore encourage them to use the standard form, in order for them to be (hopefully) understood. I encourage slow and clear enunciation, avoidance of contractions and figurative language. Here, English is functional, precise communication is the aim.
We refer to this as a form of code-switching: basically changing the language to suit the occasion, something we all do naturally (for the most part). Namely, we change our vocabulary, syntax and accent(s) depending on whom we are addressing, be it a parent or younger brother, a police officer or a troublesome telesales caller, our manager, our colleague, our first-day intern.
Our first non-native speaker is from Germany. I had some students who worked here in Vietnam for a German company, so I felt it relevant they familiarise themselves with English through a German filter.
On a cultural note, many Germans have English as a second language, so travelling there only speaking English shouldn't pose such a problem. UK and Germany have something of a 'love-hate relationship', with Britons seeing Germans as lacking in humour and having a very limited diet (potatoes, sauerkraut and sausage). Having said that, we secretly admire, if not envy, their efficiency and technological expertise, not to mention their success on the football field.
Working life in Germany:
In this clip, a worker is describing a typical German schedule (01.26 – 02.07):
https://www.youtube.com/watch?v=BGRXSpNMD4M
How long do they work in Germany ? How many breaks does the man have ?
You may start to notice slight mistakes in grammar and syntax (word order) yet the meaning should be very clear. Remember – you are not expected to be perfect, so never be discouraged.
The boot's on the other foot
We've had native speakers talking about Vietnam. Now let's have Vietnamese talking English
These young Vietnamese are offering advice to travellers about taxis and scams in Sai Gon:
https://www.youtube.com/watch?v=EyyQjZZRGaQ
New vocabulary:
tips– a piece of advice
dishonest– not truthful
options– choices
to notice– to see
taxi stand– where taxis wait
in my experience– what I have seen
fake– not real
recommend– to say something is good
convince– make people believe
What should a tourist be careful of in Sai Gon ?
Serendipity in South Korea
During one evening class, a student asked me for some advice; his manager is Korean and when the manager speaks to my student, in English, my poor student is unable to understand what is being said. Obviously, there is little I can do about the manager's English, but I gave the student some useful phrases that are polite and should stop the Korean from 'losing face', and I'll add these after the video.
Serendipity is a word for luck or coincidence. Just two days after this conversation, I was surfing on YouTube when I came across this perfect video from my new YouTube chum (friend), Ms Rachel Kim. Ms Rachel is very friendly and sweet, so I recommend you visit her channel, like and subscribe. I'm sure it will make her very happy.
Anyway, Ms Rachel made a video about trying to understand English spoken with a thick Korean accent. Starts at (0:46): https://www.youtube.com/watch?v=NVJQK0t8m9s&list=PL97HViQblvdEM3zsauRxnIg1baFTNmsDM&index=19&t=2s
Thank you, Ms Rachel. Good luck with your channel
Should you find yourself in a similar situation, some useful phrases are:
I'm very sorry, could you repeat, please.
Would you mind speaking a little slower, please.
Excuse me, could you speak slower – my English is not good.
Now let's really mix it up.
This one is very advanced. We have a man from the Indian sub-continent, speaking about life in Australia:
https://www.youtube.com/watch?v=TdwiCxe8spI
Is this more of a challenge for you ? What are the problems with the accent ?