19th May 2020
Here's another request blog; a friend, Pete (who has featured in some of my lessons) is planning a party this Friday. His daughter, who is turning 18, has requested some Vietnamese food.
However, Pete lives in the UK, which is still under lockdown (quarantine), so many restaurants are closed. Furthermore, he lives in the middle of the country, so had no access to really fresh sea food (the Vietnamese only say sea food is fresh IF it was swimming in the sea just ten minutes before).
Additionally, Pete won't be able to get his hands on some vegetables or ingredients so we'll have to take that into account. Having said that, here are some tips for making Vietnamese food in a western kitchen.
Banh xeo is like a pancake filled with beansprouts, shrimps, salad, grilled meat …
Grilled pork is ubiquitous – a street food stable served with rice and pickled vegetables.
Fried spring or summer rolls – can be a bit fiddly (difficult) to make, and require special material. Probably available in Asian supermarkets, but hard to get in small towns (or just order online like everyone else in 2020). Contains salad leaves and shrimp and vegetables).
Pho (pronounced 'far') is THE traditional food of Vietnam, and is normally eaten for breakfast. It's basically noodle soup with meat of your choice. Shrimps (prawns) or just vegetables could be substituted. Another ubiquitous dish.
HA NOI
Sai Gon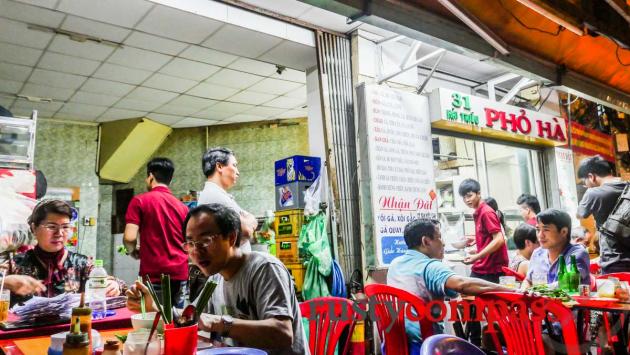 And now, without further ado … how to cook Vietnamese:
First, one of the UK's most loved, and sadly missed chefs, Keith Floyd. Keith came to Vietnam as part of an east Asian cooking show. In Sai Gon, he made this dish, beef cooked in sweet and spicy stock: https://www.youtube.com/watch?v=fO6cSQ8Vly8
The scene starts at 06.39
But, I hear you protest, how can a westerner make authentic Vietnamese food ?
Ok, so now let's have pho bo (beef noodle soup) made by a Vietnamese lady: https://www.youtube.com/watch?v=zCaGOQLpTt0
For fans of the fowl, connoisseurs of the chicken, I haven't forgotten you. Here's an interesting recipe, lemongrass chicken (lemongrass, which is ten-a-penny in Vietnam, that is, very cheap, can be so expensive in the UK. I once saw 5 lemongrass on sale for £1, that's over 30 000 VND): https://www.youtube.com/watch?v=AJtMlTnqyw0