3rd March 2021
' My Bed' by Tracey Emin, created in 1998 and first exhibited in 1999 at the Tate gallery, London.
Tonight's class is on a subject close to my heart – art. I have several blogs on art which you can access on these links:
Art: giving opinion // Adult Speaking Class, level 3: Art // 13th April 2020: https://thaypaulsnotes.com/2020/04/13/adult-speaking-class-level-3-art-what-do-you-think/
This is the link I'll be using tonight. Other blogs include genres of art, early C20th surreal art, and finally an introduction to art for younger learners.
Portrait, Landscape, Still Life (Wyndham Lewis, John Constable, Paul Cezanne) // Adult Class, Level 1 // 19th December 2018: https://thaypaulsnotes.com/2018/12/19/adult-class-level-1-lessons-1-2/
Art: DaDa & Surrealism // Adult Speaking Class, level 3: Dali, Dada & Surrealism // 23rd April 2020: https://thaypaulsnotes.com/2020/04/23/adult-speaking-class-level-3-dali-dada-and-surrealism/
Art: types of art // Young Learners, level 4 (Dali, Alice in Wonderland) // 16th May 2019: https://thaypaulsnotes.com/2019/05/16/young-learners-level-4-art-for-arts-sake/
Let's dive in ! To my classroom students, look at the quote from Tracey Ermin … do you recognise any words from last week's lesson (on electromagnetic waves) ? Did you notice 'emit' & 'pulsing' ? Do you recall what they mean ?
With art, you can be honest and say what you feel – is it not a 'yes' or 'no' situation. Quite simply, do YOU like the art ? Can you express why ? What does the art say to you ? What feelings does it evoke ?
You don't have to know anything about art – but it is a useful way to extend your English. Here are some expressions you could use:
"As far as I'm concerned…" // "Speaking for myself…"
"In my opinion…" // "Personally, I think…"
"I'd say that…" // "It really appeals to me …"
I don't get it at all // It leaves me cold
It's not my cup of tea // I wouldn't call that 'art'.
What do you think of these Vietnamese works, as an introduction to unusual art: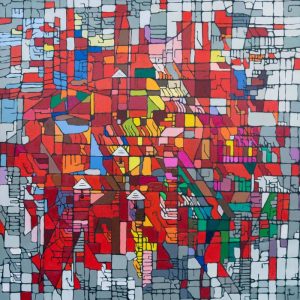 Finally, a very famous Norwegian painting, which I was lucky enough to see in Oslo:
How do you respond to this ?
Here's what sunset looks like in Oslo:
Suddenly, the blood red sky ceases to be abstract and becomes realistic. Hope you can practice using opinion phrases, as well as incorporating new words into your everyday English. Tonight, from the book we had:
abstract
artificial
illuminate
layer
silhouette