8th June 2020
'Shadow Sonata' was my first film shot in London since the early 1990s, and how things have changed. I started with a Bell & Howell 8mm cine camera, splicing film by hand and playing back on a projector; now I was working on a pocket digital camera and cutting on computer.
The title is a reference to the short story collection 'Shadows of a Sound' by the Korean writer Hwang Sun-woo, an author mentioned in the Korean film 'My Sassy Girl,' and the book plays a key part in the film. The influence of Asia and Asian culture should be discernible throughout.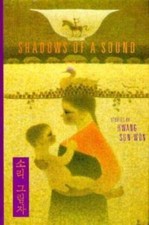 'Shadow Sonata' is a non-linear story of a man living in London, obsessed by an old love affair, while dreaming his way out of his depression. The topography of London helps the viewer place the action in the past, the present, and what could be the future, or pure imagination.
The Man starts by meeting his blonde girlfriend by an old museum in Walthamstow, north-east London. From the sunny exterior we move to the inside of his small London bedsit, decorated with Asian posters, and full of books by Asian writers.
He walks around London, alone, the city appearing grey, cold, emotionless. He keeps seeing a beautiful Asian lady and feels very attracted to her … if only he could meet her.
I shot this film over two days on my Samsung W200, a camera that cost me around 80 UKP. It lasted until 2017 when it just died on me but anyway, mobile phones now have better cameras (I currently use an iPhone 6s).
Furthermore, I was very lucky with the weather; I had bright sun for the flashback sequence and dull wet grey rain for the present.
The was for the old love affair was played on an instrument I encountered in Sweden, a nyckleharpa:
The dream or future sequence uses 'Oriental' from Granados' 'Spanish Dances', while the melancholic ending is a late String Quartet by Beethoven. These small scale pieces fascinate me, especially considering they followed the epic 9th Symphony … but that is possibly a theme for another blog or film.
As always, thanks so much to the actors who gave their time for free:
Mr Martin O'Shea, Ms Michelene P. Heine, Mr Stephen Grey, Mr Alex Loveridge, Ms Angie and introducing Ms Emily Yue.
And now
LIGHTS
CAMERAS
ACTION !
The link: https://www.youtube.com/watch?v=S_e3DOCT36o