25th May 2021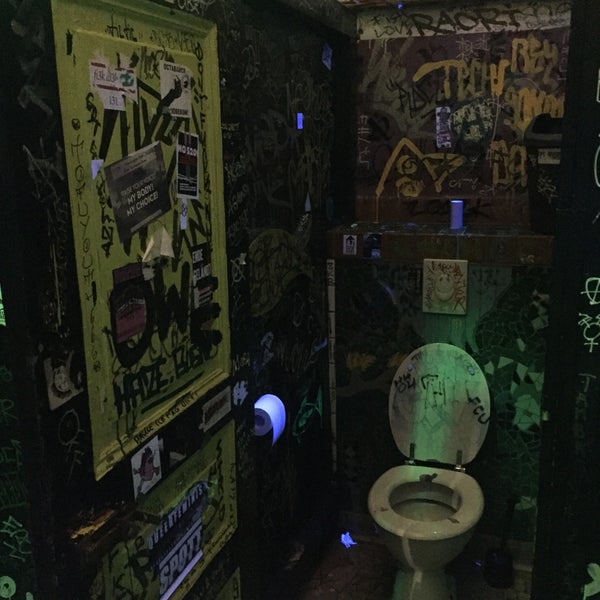 Part Six. Berlin. April 1995
Though he was pretty immune to odours, Jake sometimes found it necessary to open the door and air out the bar while they were setting up.
The day had shown the first signs of a summer that promised to be warm and loving, a reward for surviving the harsh unrelenting Berlin winter.
Jake was sweeping in the back, by the stage, and Chris was behind the bar, stacking empty beer bottles in crates and getting tonight's beer ready, when four builders walked in, the first asking in a north-English accent,
"You open, Mate ?" then sitting down before getting an answer.
Chris looked over at Jake who nodded.
"Sure. What can I get you ?" he asked, stressing his own Midlands accent.
"Fuck me, another one," said the second man in his thick Irish brogue.
"Lot of us about, Paddy," answered the third man, a thin, wiry Brummie with flecks of white paint in his hair.
"What've ya got, Mate ?" asked the fourth man, Daniel Roth.
Chris brought up a selection of bottles; Becks, Flensburger, Veltins and the Czech Staropramen.
"Give us a Becks. What d'you fuckers want ?" asked the Northerner.
"Do you not have no Guinness ? Fuck me. Go on, then, I'll have to have a Flensburger, won't I," from the Irishman. The Brummie also chose a Becks and Daniel took a Staropramen.
"Look at that poncey twat, always gotta be different," was the Northerner's reaction to Daniel's order.
They joked around insulting each other for a couple of rounds, then decided to leave.
The Northerner came back from the toilet, laughing,
"You oughtter see what it's got writ in there: 'Where is your Vortex ?' (1) Too fucking right. I've been in some shite-holes in my time but this … Ah, no offence, Mate."
Chris waved the insult away, suddenly remembering exactly why he had left England.
After they left, Jake was about to close the door, when he stopped and picked up a book that was on the floor. He held it out to Chris,
"This yours ? Lassa …'L'Assa moee …' by . . . Emily Zola."
"No, not mine. Sure as hell ain't gonna belong to those thick-as-shit navies."
Just then, Daniel came back in, looking for his book.
"Emile. It's Emile, not Emily. And I wouldn't insult builders, if I were you," he said, looking at Chris, who was starting to lose the colour in his face, "because those guys will pick you up with one hand and throw you against that back wall, there. Yeah, the book's mine. We're not all troglodytes, you know ? You can 'ave it when I'm finished, all right ?"
"Yeah. Yeah, thanks."
"You closing up then ?" Daniel asked.
Jake laughed, dispelling the tension and explained the opening hours. Daniel laughed.
"Well, maybe I'll shoot by, later. Yeah, I know those guys are as thick as shit, but, they're my mates, right ? And that 'Vortex' … Wyndham Lewis ?"
Chris nodded. He had written it one drunken night, inspired by a lecture from Melanie about how the cranes of the Baustelles (building sites) resembled Vorticist paintings. Jake had never noticed the graffiti.
But then Jake woke up a little,
"Hey, I wouldn't insult builders if I were you."
"Yeah, but the good thing is half the time they don't even know they're being insulted." Daniel laughed at his own comment, realising the amount of truth in it. "Right then. See ya later."
Later was still very early, just after ten o'clock and the bar was almost empty. Daniel sat on the first stool, by the door, and took another Czech beer. Chris looked at Jake and by mutual consent, agreed it was vodka time, though for Jake, it was always vodka time.

Chris poured one for Daniel, as a way of burying the hatchet. They talked about what they were doing in Berlin, where they came from and how much better life was here. Chris asked him where he lived,
"Wedding," replied Daniel. This was an industrial Bezirk north of the centre, not renowned for its beauty. Not renowned for anything in fact.
"It must have been the only place in the West where people actually jumped The Wall into East Berlin," he joked of his new neighbourhood.
Daniel was very impressed by both Chris and Jake living in squats and running the bar. But he began to be less impressed by the people that slowly started coming in, all neighbours and locals.
One such was Robert, a wild, crazy-looking German who sat next to him and proclaimed, without apparent cause or reason,
"Shit on a stick!"
The phrase was repeated endlessly throughout the night. Another large, almost obese customer nursed a solitary beer for hours and engaged in an animated conversation with himself. Squatters brought their dogs in and they snarled and barked, making their owners bark and snarl even louder than their pets in a vain attempt to make them stop. Jake barked louder than anyone, when he saw a dog about to defecate.
Then there was Peter. He was the father of the bar, a man in his mid fifties, with long yet stylish white hair and beard. He was very tall and looked as if he could have been a movie star in far distant days. He had travelled, was possibly an ex-sailor, and had been in Berlin longer than anyone could remember. He took a beer, then rested against a wall, observing proceedings. His only contribution was to raise his bottle to his lips and blow sharply, creating a shrill, resonating note, said note descending in pitch as he drank the beer.
Chris kept an eye on Daniel. He wasn't looking quite so at home now.
Then the French arrived.
Johan had a group of friends who had either been in the army with him, or had come over to enjoy a cheaper, freer life.
They bounded in, Johan, Claude and several others, singing and shouting, Johan screaming out for vodka. Chris included Daniel in the communal drinking, despite his protests,
"I've got to fucking work, tomorrow. Fucking . . . OK, but last one."
"Oh, you'll be OK." Chris winked at Jake.

By the time Richard arrived, desperately in need of alcohol, Daniel was swaying, smiling, singing, screaming. He was totally Czar-bared,
"Fuck you and your dry wall !"
"Eh, Jake, fucking hell, 'ho is this man ?" asked Johan amused.
"Shit on a stick !" from Robert
"What's wrong with continental breakfast ?" screamed out Peter, defying anyone to supply an answer.
Daniel, recalled back to life, laughed at Peter's question and repeated it. Several times. It was at that point that Chris introduced him to Richard.
Picking up seamlessly on Chris' lead, Richard insisted that the new friendship be cemented with a vodka. Daniel burst into song.
The whole bar, inspired by the French, took a vodka, Daniel almost drinking his shot before the communal toast and being restrained by Robert,
"Shit on your vodka!"
The madness continued. Daniel, in moments of lucidity, threatening to leave and get the last U-Bahn (long since gone) but he was now having longer periods of silence, head drooping, dropping, drooling, until he finally lay his head on the bar and slept.
Chris, who had been abstaining from the vodkas, had triumphed and he celebrated his victory by throwing crumpled cigarette boxes and old lemon peel at Daniel's head, much to the amusement of Johan, bewilderment of Richard and apathy of everybody else.
After three-thirty, the bar began getting a little quieter, having been visited by a policemen who stood in the door and told them to keep the music down.
Another wonderful thing about Berlin. Here was a totally illegal bar in a squatted building and all the Police do is ask them to turn down the music. Having said that, a request from a German Policeman is pretty much an order, and was complied with. For a time..
Most of the French gone, the bar started to wind down. Richard was able to speak about his day, or rather his shift. He had worked with a new chef who was incredibly lazy, and some new bar staff who were incredibly boring. The novelty of being a Spüler had long worn off. But before Richard could complain further, Daniel woke up and staggered out of the door, no doubt determined to get the last U-Bahn.

Chris let out a celebratory cheer,
"Revenge !"
"Excuse me ?"
"Ah, never mind. Vodka ! Jake ? Vodka ?"
Jake stared uncomprehending. Wobbling around in the confined space behind the bar, he demanded of Chris,
"Do you have to ask ?"
The three drank and talked about the exit of Daniel.
"It's amazing," began Richard, " people come in here, upright, homo erectus, sit at the bar, drink, drink again, and then, after the passage of time, they crawl out on all fours, to lie in a ball on the pavement, like single-cell pond life. It's like watching evolution in reverse."
His observation resulted in more vodka.
Richard left several hours later, making the mistake of going by S-Bahn. It involved a longer walk to the station, including a lengthy walk along the covered, elevated tunnel of Storkower Strasse, but was only a ten minute journey. The disadvantage was that if one slept, one was liable to find oneself in some distant suburb.
Richard woke up at Adlershof and took some time to adjust. He jumped off. Not only had he gone all the way to the northern terminus, he had come back on the same train and was now in south – east Berlin. The TV Tower, which should always be on his left, travelling home, was way off and to his right.
He knew that he didn't have enough time to get home, get adequate sleep and return to work feeling anything close to well.
He worked yet another shift with a killer hangover.
However, it was more than Daniel Roth did. He didn't make it into work. He had gotten on the first U-Bahn, but unfortunately the wrong one. He fell onto the train from Alexanderplatz, and was woken up by the guard at Hönow, in the east, the very distant east.
Chris, meanwhile, got his wages from Jake and merely had to fumble his way to the next door and up some stairs, where he fell into a deep and trouble free sleep.
(1) Vortex is the name of a household cleaning product in the UK