21st April 2021
Today is Hung King Festival, a free day in Viet Nam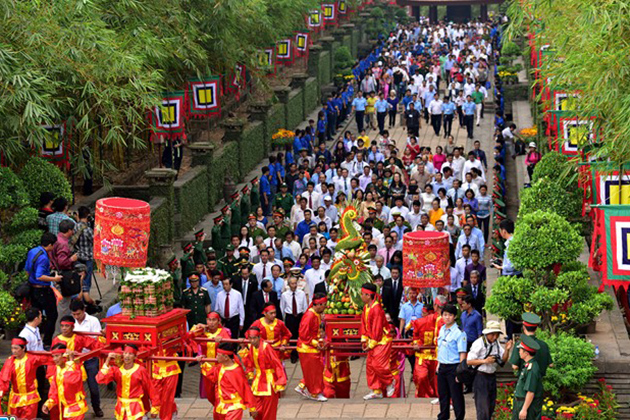 "The holiday is dedicated to the memory of the Hung line of kings who ruled Vietnam as priestly kings for over 2,500 years up until around 250 B.C. These kings are counted as the nation's ancient founders." Read more on:
https://publicholidays.vn/hung-kings-commemoration-day/
New Vocabulary
Cheap as chips … very inexpensive (UK expression)
Elaborate (verb) … tell more, expand on your answer
Significant (adj) significance (noun) significantly (adv) … very important or different from the rest. Special, notable.
Simile … to compare something e.g. he drinks like a fish, she eats like a pig, our campus is like a bloody madhouse.
White collar job … professional, desk job or requires mental skills e.g. lawyer, doctor, office worker, teacher
Blue collar job … manual work, although these jobs can also need a professional qualification, and can be extremely well-paid.
Now, on with the show. Last night was based around the typical IELTS question, "Tell me about your family," and its derivatives. I tell classes until I'm blue in the face, just saying, "I live with my mum, my dad and my sister," is not a great IELTS answer, not to mention being tedious in the extreme.
The students mulled it over and came up with the reasonable response that there really was nothing else to say. Au contraire (on the contrary) there is so much to say, and every journey, as my Duchess knows, starts with a single step to wit, a great introduction.
The students, somewhat perplexed, offered:
Well, I don't know how to give an interesting answer because I just live with my mum, dad and brother …
Even that would qualify as an introduction, but how about:
Allow me to introduce my family to you. Firstly there is …
Here's where relative clauses really come into their own. Basically, every time you mention a subject, a noun, elaborate; tell the examiner more about said subject.
Oh, you know I will. Let's start with the matriarch, Mommie dearest. You could say:
My mother has a heart of gold …
…then explain why
… she's always thinking of other people before herself, as well as listening to all my problems and trying to help me with everything.
On the other hand, your mother may want you to excel at everything …
Although I love her dearly, my mother is what they call a Tiger Mum by which I mean she always makes me study, do homework and learn piano. I really burn the candle at both ends and sometimes it can be too much for me.
Now, let's turn to pater, Daddy;
My father, on the other hand, is firm but fair …
My father has a white collar job. He works long hours to provide for his family, he really has his nose to the grindstone …
He's a little loud and on holidays, he loves singing karaoke with his friends, who are all blue collar workers, and he drinks like a fish.
Now, a borrowed word to describe sister …
My sister, who is younger than me, is such a prima donna, always (doing what ?) …
Conversely:
My sister is so sweet, she's like a little angel, and she loves playing with our puppy who is just six weeks old.
How about brother ?
My brother really looks out for me, giving me advice and guidance. I totally look up to him.
On the other hand …
My brother is an absolute slacker, lazy beyond belief. He never helps in the house, or cleans his room. He does his homework once in a blue moon, preferring to play stupid computer games instead.
How was that ? Happy now ?
Now … Your Turn
Last night you encountered these adjectives and occupations:
aggressive / arrogant / calm / funny (haha) / funny (crazy) / generous / honest / humorous / kind / mean / modest / polite / quiet / reliable / rude / selfish / serious / thoughtless / trustworthy /
estate agent / plumber / DJ / mechanic / bouncer / surgeon / accountant / actor / cook or chef / removal man / insurance agent / bank clerk / detective / businessperson / barista / lawyer / slacker shop manager / unemployed /
Exercise 1: Write and then present your own IELTS-style answer to the question, "Tell me who you live with ?" Use new words as well as your own ideas.
Here's some help, should you require it:
Allow me to introduce my family to you. Firstly there is my mother who … (where is she from OR what is her job OR what is she like, by which I mean physically or in terms of personality ?).
My father, on the other hand, is …
As for my younger sister, I worry about her because she …
Now, let's mix it up a little … say you live with an aunt, a grandparent, a cousin … impress me; I know you can do it.
For more about introductions, check out this blog: https://thaypaulsnotes.com/2021/01/28/ielts-please-allow-me-to-introduce-myself/
For last night's lesson blog, click here: https://thaypaulsnotes.com/2021/04/20/ielts-mindset-1-lesson-6-speaking-speaking-and-more-speaking/
See you next week