28th June 2021
Russell and I met many years ago in London, when he was an aspiring actor. His career, in this notoriously fickle business, is really taking off but I'll let Russell present himself, and share his journey.
Hi Russell. How's it going ?
It's a good day actually because I've just been cast in this feature film called 'Witch'. I'm one of the leads. It's probably going to the biggest movie that I've been in. We start shooting in the first two weeks of October, so that is very, very exciting.
Could you describe your hometown
I'm from Halifax in West Yorkshire. It's a lovely place in the valleys, surrounded by countryside. Halifax is a small town near Leeds and Huddersfield, and about thirty miles from Manchester. It's got a lovely place called the Peace Hall which is incredible … but the football team's not doing too well.
At what point did you decide that you had to be an actor ?
There was no deciding. I was working as a welder at the time, doing sixty hours in a factory and I used to go home at Christmas to be with my mum and my sister and my brother. I was also going out with this girl who lived in London. I think her life, and being around her university friends, influenced me, how she was doing what she wanted to do.
I really struggled. At Christmas I would speak to my mum and ask, 'What do I want to do ? I don't want to do what I do anymore'. And she just said, 'What did you like to do at school ?' I mentioned acting, so we decided that I would get into performing arts, do a course in acting, just to find out what I wanted.
I did a two-year diploma at Arden school of acting in Manchester, and I ended up with six distinctions. I got in at Leicester and did four years in Performing Arts. I got a BA (Hons), ended up with a 2:2 for my dissertation.
For me, the real acting, the real work starts when you're not in that bubble anymore, when you're just out there, getting the experience, getting your showreel together, getting an Equity card, getting headshots. Getting your first professional credit. Finding out what you want to do; is it film, is it TV, is it musicals, is it theatre, is it commercials ? Is it music videos, murder mysteries ? I did them all !
There was a lot involved and I struggled a lot when I first started getting into acting, I was seeing a counsellor, one-to-one sessions, and I continued to do a lot of work by myself. I work on myself all the time, reading books. I'm a graduate in 'More to Life', I'm a graduate in 'Landmark Worldwide' which is all about how language creates your world and how the mind can run your life.
So, it's not just a case of changing your career, it's not easy. But I did it and I don't give myself enough credit and I'm aware of that.
What were your influences ?
My mum and my sister. They said do what you want to do, what makes you happy. I had two cars and a motorbike when I was twenty-one but it wasn't about the money, it was about what made me happy.
Do you have any advice for people wanting to work in the Arts ?
Believe in yourself and be aware there's lots of negativity out there as well as positivity, and for people that haven't had much success, it's very easy for them to say that it's really tough out there, and it's this and it's that. But if you listen to that, then you're taking on their journey, not your own journey. For me, everybody's journey is different, no matter where you are in life, in your career.
Be strong, always keep thinking outside the box. Develop your skill sets, keep getting the experience. Keep saying yes to opportunities and never stop learning. You'll be learning for the rest of your life, there's always something new to learn.
As an artist, one is inevitably going to face disappointment. How do you deal with this ?
One of the things I do, which fits into the Landmark Worldwide, is when you have a disappointment rather than say, 'It's me, I'm not good enough,' what I say is that I wasn't right for that particular part … but there will be a part that I am right for.
Always be amiable, go into everything with an open mind, like you're learning for the first time. Don't assume that you know everything.
Where can my readers see you ?
I have my own website, I'm on Spotlight, IMDb, Linkedin, Facebook, Twitter and Instagram. I'm also on YouTube, so I'm everywhere, really.
https://www.russellshawactor.com/
https://www.spotlight.com/9332-0169-3114
https://www.imdb.com/name/nm2388401/
https://www.facebook.com/RussellShaw4/
https://twitter.com/Russ_ShawActor2?ref_src=twsrc%5Egoogle%7Ctwcamp%5Eserp%7Ctwgr%5Eauthor
I also did an eight-part TV series for TV called 'Unexplained: Caught on Camera', which was incredible. Look out for a monologue called 'Borys the Rottweiler' on Sky Arts, in which I play a dog.
Additionally, you can also see me in the Arctic Monkey Video, 'When the Sun Goes Down – Scummy Man'.
The biggest things have been 'Adventure Boyz' & 'The Lockdown Hauntings' but the biggest thing is going to be 'Witch'.
I've done loads of radio and commercials including one for Halifax Banking, which is on TV still.
What does the future hold ? Any exciting news ?
Yes, I've just been cast for a commercial. It's on hold for TV and cinema but, I've been told, it's going to be out on the 14th July. It's a commercial for National Rail, and I play a father who wants to take a shortcut home to be with his wife and child. I walk across a rail track … and get zapped ! It's basically National Rail safety. My wife is played by Miranda Nolan, Christopher Nolan's ('Dunkirk', 'Inception', 'Batman Begins') cousin, so I'm looking forward to that.
The exciting news for me is that 'The Lockdown Hauntings' is actually being shown in Singapore, right at this very moment, at the Shaw Theatre, which is really beautiful. I'm thinking it's going to have an American release soon.
The other big thing for me, just confirmed yesterday, is that I've been confirmed as one of the leads in 'Witch', directed by Marc Zammit and written by Craig Hines.

Marc Zammit@zammit_marcAfter 3 months of auditions. We were completely blown away by @Russ_ShawActor2 performance! The moment we saw his self tape we had goose bumps and knew he was going to be working with us! Playing one of the Leads in feature film WITCH #THOMAS@WitchMovie1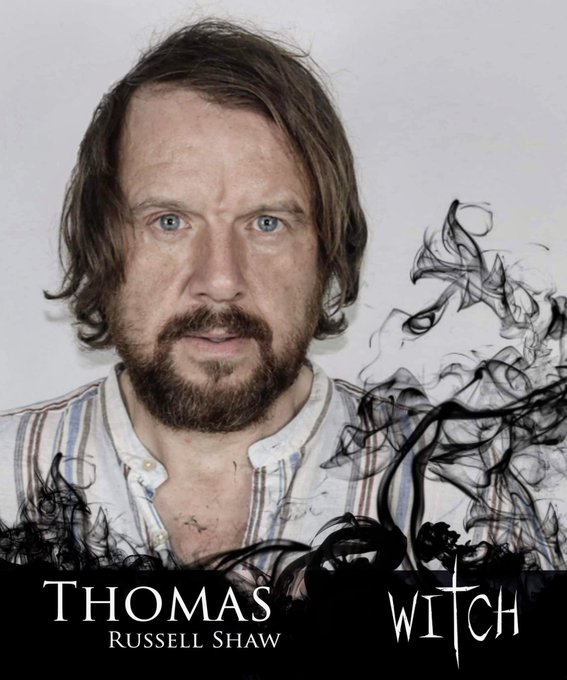 The film will be coming out in 2022, and it's getting a lot of exposure. Marc Zammit is connected with Universal, Lionsgate and Paramount, so it's definitely going to be the biggest movie that I've been involved in. I play a character called Thomas. It's a 16th Century supernatural horror film.
I'm also doing a Radio 4 play next week as well as a voice-over for Medtronic which will be heard all over Europe. I seem to be doing a lot of feature films. This year I've got 'Six Years Gone' in which I play a detective. That's coming out end of September. I'm also in another film, a black comedy called 'Psycho List', and I'm also in a short film which we're shooting next week.
So, that just about wraps it up. Believe in your dreams, believe in your own path. Stay away from any negativity. More than anything, believe in yourself.