11th June 2020
As always, I use these exercise to introduce idioms and expressions, as well as demonstrating how adverbs and adjectives can be used in everyday conversation.
Speaking practice:
Pat Well, I'm exhausted. I need a damn fine cup of coffee and a big piece of pie.
Sam There's a Highlands over the road, or we can go to Coffee Bean or Milano.
Pat I'd prefer Tran Nguyen but it costs an arm and a leg. Highlands is also incredibly expensive.
Sam But great quality and superb cakes. Come on, I'm starving, I need coffee now !
Pat OK, hold your horses hahaha. After we can meet up with Thay Paul.
Sam Sounds good. Now … shall we have chocolate cake or fruit cake … ?
costs an arm and a leg = very expensive
hold your horses = please be patient and wait
Inside Highlands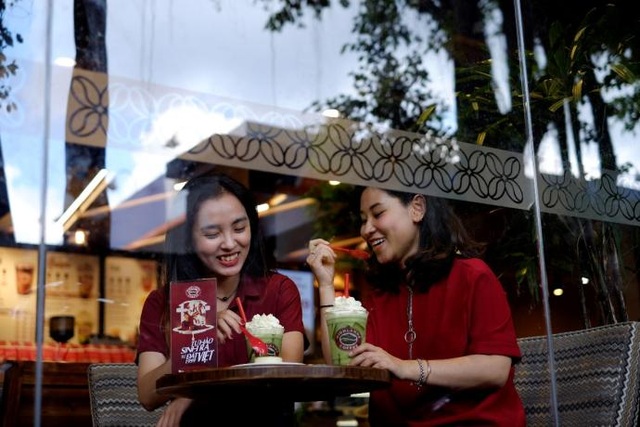 Sam Hi, I'll have a large cappuccino, please. What do you fancy ?
Pat Tough decision. I'm going for the cheesecake and a slice of blueberry pie.
Sam Oh, me too. Big slice, no, only joking, I have to watch my weight.
Pat I think you look great. Lets also get some chocolate cake and we can share.
Sam Brilliant. Oh, did I show you my recent photos ? Here, on my phone.
Pat Let me see … oh, so funny. Who's that ? The man next to Niall ?
Sam That's Jimmy, he's in Niall's band. He plays drums and drinks like a fish !
Pat And that's you, a selfie. You look adorable. Butter wouldn't melt in your mouth !
drinks like a fish = drinks a lot of alcohol
Butter wouldn't melt in your mouth ! = looks very sweet and nice … but can be very naughty
Speaking practice: Adverbs of probability
definitely / probably / possibly / unlikely / definitely not !
Toni What are you doing tonight ?
Anna Not sure. I'll probably go home and watch TV
Toni Sounds boring. Do you want to see a film ?
Anna Let me think … possibly. Where will we go ?
Toni Lotte Cinema. We will definitely get tickets on a Thursday night.
Anna Great idea. I'll ask John but it's unlikely he'll be free
Toni Cool ! Then we'll (we will) meet at 6.30. Don't be late.
Anna Me ? Definitely not ! I'll call you if I'm late.
Gil & Zoe are on a coffee break
This has many new words and expressions for you to learn and practice.
Gil Who's that in the photo ? The tall bald guy ?
Zoe That's Peter. He works in IT. I get him to fix my laptop when it crashes.
Gil Have you seen our IT guy ? He's so arrogant, and very bossy.
Zoe Really ? In what way is he bossy ? Give me an example.
Gil Well, he shouts at everyone and tells them how to use their computers.
Zoe A real computer geek. I bet he has no friends. Do you like Peter ?
Gil He seems nice, honest and reliable. Will he be at the party later ? 
Zoe If he's free. His office is just over the road. Maybe he'll play piano for you.
Gil Cool, I adore music. Karaoke, however, is not my cup of tea. Will there be karaoke?
Zoe Oh, I hope not. Anyway, how was your day ? Another fun happen ?
Gil In my job ? No way, same thing day in, day out. Total boredom, in a nutshell.
Zoe Oh, poor you. I hope you will find a better job … and very soon.