7th December 2020
Describe these pictures, using adjectives and your opinions.
Highlands Coffee has great coffee, air-con and free wifi. Having said that, the service is a little slow, there are no waiters and the cost is unbelievably expensive !
Vietnam is famous for coffee; coffee shops are ubiquitous. In fact, there are so many, it's hard to see (difficult to understand) how they stay in business let alone turn a profit.
Be that as it may, let's use this as a learning opportunity. To practice making longer sentences, and as a warm up exercise, the students can ask each other, "Where do you go for coffee ?"
Tips:
Don't answer the question directly and immediately; Begin with a short introduction:
Sai Gon has so many coffee shops, some are cheap while others can be quite expensive although they have a wide range of delicious coffee. Personally, I like going to …
Then
Explain:
How MUCH do you like it (adverbs) ?
What kind of coffee (adjectives) ?
What do you think about this ? (opinions)
WHY do you like it (give reasons)
Interesting words, phrases, idioms
Personally, I like Tap Coffee which is an independent shop where I live. I enjoy going there so much because the owner is very friendly and tries to speak English with me. There isn't a lot of choice, so I order cappuccino with hot, fresh milk. In my opinion, it is good value and tastes delicious. What I like about the shop is the free wifi, the comfortable chairs and the atmosphere. Furthermore, it is usually very quiet and it therefore a good place to read. I love to put my feet up, kick back and sip my damn fine coffee.
Before the exercise, elicit and board as many relevant words and phrases as required. The students have a discourse marker list, so I could insist that they use certain words (moreover, therefore, consequently etc). Additionally, I'll need to explain vernacular phrases such as 'kick back' and 'put my feet up'.
IF a student doesn't like coffee, then they can say where they go and what they drink. IF they don't go anywhere or like anything (yes, I have had that in a class), then they can explain WHY NOT!
Key vocabulary: ambience // aroma //atmosphere
Grammar Note:
In a list of three, use one comma and a linking word (and):
The service is a little slow, there are no waiters and the cost is unbelievably expensive !
In a list of two, just use a linking word (and):
Mega Mart has amazing choice and is good value for money.
How to make Vietnamese coffee
Tell me: what do I need ? What type of coffee is best ? Where can I buy it ?
New verbs: pour / stir / fill up /
Make a long, fluent presentation.
Signpost expressions: used to help tell a story or a narrative. They allow the listener to help organise the information.
Useful words or expressions:
Firstly / afterwards / and then / following that /
don't forget to … / you can always ….
lastly / finally / at the very end …
In your experience, what coffee is best ? Trang Nguyen, Highlands or Milano ? Maybe street coffee ?
Speaking practice:
Pat Well, I'm exhausted. I need a damn fine cup of coffee and a big piece of pie.
Sam There's a Highlands over the road, or we can go to Coffee Bean or Milano.
Pat I'd prefer Tran Nguyen but it costs an arm and a leg. Highlands is also incredibly expensive.
Sam But great quality and superb cakes. Come on, I'm starving, I need coffee now !
Pat OK, hold your horses hahaha. After we can meet up with Thay Paul.
Sam Sounds good. Now … shall we have chocolate cake or fruit cake … ?
costs an arm and a leg = very expensive
hold your horses = please be patient and wait
Inside Highlands Coffee Shop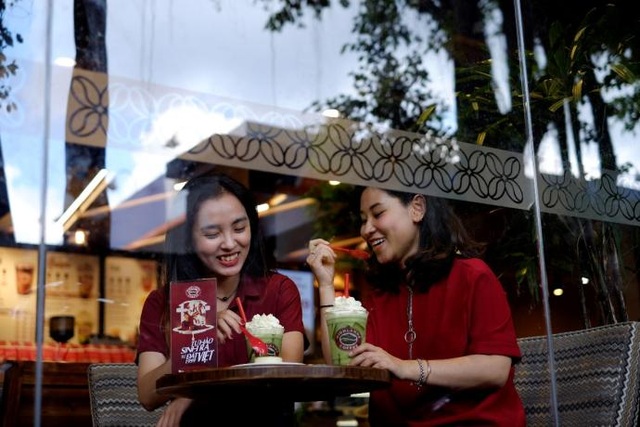 Sam Hi, I'll have a large cappuccino, please. What do you fancy ?
Pat Tough decision. I'm going for the cheesecake and a slice of blueberry pie.
Sam Oh, me too. Big slice, no, only joking, I have to watch my weight.
Pat I think you look great. Lets also get some chocolate cake and we can share.
Sam Brilliant. Oh, did I show you my recent photos ? Here, on my phone.
Pat Let me see … oh, so funny. Who's that ? The man next to Niall ?
Sam That's Jimmy, he's in Niall's band. He plays drums and drinks like a fish !
Pat And that's you, a selfie. You look adorable. Butter wouldn't melt in your mouth !
drinks like a fish = drinks a lot of alcohol
Butter wouldn't melt in your mouth ! = looks very sweet and nice … but can be very naughty