1st February 2021
ALH 7.4 pp 68 – 69
Welcome to the class – hey, what's cooking ? (what's happening ?)
Unfortunately, I'm not 100% today. I have a sore throat so have to reduce the amount of talking … which is good news for you !
Standard English:
I'm not feeling very well // I have a slight cold // I'm not at my best
Idioms:
I'm feeling under the weather // I'm not myself tonight
Vernacular:
I feel like hell // I just want to crawl back into bed
So, to warm up here are some dialogues you can practice. Look up any new words or phrases, then try to use them throughout tonight's lesson.
Pat Well, I'm exhausted. I need a damn fine cup of coffee and a big piece of pie.
Sam There's a Highlands over the road, or we can go to Coffee Bean or Milano.
Pat I'd prefer Tran Nguyen but it costs an arm and a leg. Highlands is also incredibly expensive.
Sam But great quality and superb cakes. Come on, I'm starving, I need coffee now !
Pat OK, hold your horses hahaha. After we can meet up with Thay Paul.
Sam Sounds good. Now … shall we have chocolate cake or fruit cake … ?
Inside the coffee shop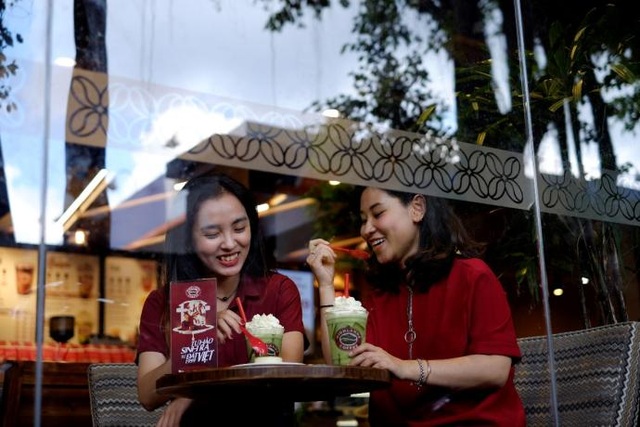 Sam Hi, I'll have a large cappuccino, please. What do you fancy ?
Pat Tough decision. I'm going for the cheesecake and a slice of blueberry pie.
Sam Oh, me too. Big slice, no, only joking, I have to watch my weight.
Pat I think you look great. Lets also get some chocolate cake and we can share.
Sam Brilliant.
This is an extract from a previous blog, which may be accessed here: https://thaypaulsnotes.com/2020/06/11/adult-speaking-class-level-2-coffee-shop-chat/:
Next week is Tet Holiday
As a guest in Vietnam, I am not sure of Vietnamese culture and customs. Work in teams and make a presentation to the class, explaining Tet holiday in terms of food, how it's prepared, and who is invited to eat. Are there any strange or unusual traditions associated with Tet ?
Standard English:
Watch this video // Have a look at this short clip
UK London slang:
Have a butcher's at this clip (butcher's hook = look)
Vernacular:
Check out this vid