16th December 2020
A compilation of exercises for students to plan a day out for visitors to their city.
Firstly, an example demonstrating an IELTS-style structure:
Where would you like to visit in Viet Nam (or your own country) and why ?
I show them a plan:
Introduction / First good point / second good point / something negative / conclusion
I choose Hoi An
Introduction: DON'T answer immediately but introduce the answer by rephrasing (paraphrasing) the question:
Vietnam has many beautiful places but my choice would be Hoi An.
First Good Point:
Firstly, Hoi An is a historical city with a wonderful Japanese bridge and lovely old shops. At night, the shops use romantic lanterns.
Second Good Point:
Hoi An is close to Da Nang, so I can fly there easily and quickly. There are many things to see and do in the local area.
Now, something negative
However, Hoi An is very small and can be extremely crowded in summer. Maybe it will be difficult to find a hotel or a table at a good restaurant.
Conclusion
In my opinion, Hoi An is a very special place to visit because it is a town of Vietnamese culture.
How to build sentences:
Use adjectives to describe nouns (beautiful, historic, romantic)
adverbs to describe adjectives and verbs – give more information (very, easily)
opinion phrases (in my opinion)
linking words to connect positive to positive or positive to negative – discourse markers (however, furthermore, consequently, therefore)
reasons and examples why an action is being done (because) or such as …
For IELTS students, ALWAYS think how you can use an idiom e.g.
I have been burning the candle at both ends, so I really need a break
I only take a holiday once in a blue moon
Travelling can be extremely expensive, but a bus ticket to Da Nang, although time-consuming, doesn't cost and arm and a leg.
Now – your turn:
Where do you want to visit ? Where would you most like to visit ? This can be in Vietnam or anywhere … think BIG.
Activity:
Present a holiday using a mixture of advertising slogans and practical information. Remember:
It's not what you say, it's how you say it
Make your voice sound excited, as if this were the best holiday ever ! You have to use intonation and stress.
Holiday terms:
transfers / half-board / all -inclusive / amenities / package tour / itinerary /
Language:
breathtaking / visually – stunning / sensational / incredible / remarkable / exclusive /
once in a lifetime experience / never to be forgotten / unbeatable prices / book now to avoid disappointment / best decision you'll ever make
holidays to suit all budgets , from 7* luxury to backpacking
Structure:
To begin with / furthermore … additionally / the fact is … / therefore
Demonstration with an advert for London:
Now is the perfect time to visit London, England's glorious capital.
To begin with, the weather is perfect for walking, so you can enjoy the lush parks, world-famous museums and incredible, unbelievable shops such as Harrods, Selfridges and so many more.
Furthermore, there is something for everyone … and more ! Like sports ? Go to one of the many Premier League football games. Love shopping ?
The fact is, everything is here – shop till you drop !
Additionally, if you adore culture – soak up hundreds of years of history.
Flights from TSN airport daily. Seven-day all-inclusive package tour starting from only 50m VND ! All transfers and transport included. Air-conditioned mini bus with Vietnamese-speaking guide.
Therefore, don't delay … book TODAY !
Sell a holiday
Advertising vocabulary and intonation
Prepare a presentation to market / sell a holiday.
Review: New vocabulary
sensational / once in a lifetime / luxury / all-inclusive / unforgettable experience / mysterious / majestic / breathtaking / visually-stunning
book now to avoid disappointment / exhilarating / world-famous
local food / new cultures / visit our website / worth every penny
fun for all the family/ the perfect getaway /
Plan a tour of your city for my friend
It is his first time in your hometown. He likes history, traditional food, and he wants to buy souvenirs.
Think about:
What time to start
What to do first
Logistics – how Ethan can get around the city (subway, bus, taxi, Grab or Uber)
Food – where to eat and what to choose. Remember, he only speaks English
Where to go (remember the heat OR the rain could be an issue / a problem).
Explain your choices
Try to incorporate (use) these adjectives:
interesting // historical // fascinating // authentic
typical // bustling // lively // thought-provoking
Mind map – Travel
I start by writing the word 'travel' on the board, and see how many avenues spread out from it. Start with the grammar; what type of word is it (noun) but it can be made into a verb (to travel, travelling) and the students should remember how to apply it to a person (traveller).
Then we have expressions such as 'travel broadens the mind.'
We have this quote which introduces metaphor – the world as a book:
Then more pedestrian aspects of travel; how do we travel (transportation), preparation (booking tickets, hotels, visas etc), what do we bring with us (different clothes, sun cream, currency, sun glasses etc). How about culture shock ?
Next, what are the positive aspects of travelling (new cultures, fun, adventure, relaxation) and conversely, the negatives (delays, waiting in soulless airports, getting ripped off, tourist traps, bad hotels etc)
Pair work: students have to write a short passage using 'although' and 'despite' to encapsulate their travel experiences or wishes.
EXAMPLES: Although I absolutely love travelling, there are many drawbacks. Firstly, there is the cost; it can be incredibly expensive what with plane tickets and hotels not to mention having to eat out in restaurants. Despite these issues, travelling can be so relaxing or exciting, seeing new places and doing new things or simply as a break from our normal lives.
Vietnam has many beautiful towns and places of interest although I have only been to a few of them despite travel being relatively cheap in this country. We can fly everywhere within one or two hours, at very reasonable prices although some cheap airlines, such as Vietjet, are notorious for delays.
I have always wanted to visit Beijing in China which is not excessively far from Sai Gon. Despite that, I haven't been because I am not sure about the visa and how expensive it would be to visit. Additionally, I hear some negative things such as terrible pollution and many tourist scams. Despite the drawbacks, I really want to see the Great Wall, the Forbidden Palace and all the temples. Although Vietnam and China have a complicated relationship, most Vietnamese would agree that Chinese food is delicious.
These exercises help to increase vocabulary and confidence. Furthermore, the repetition helps to make the target language part of the students' lexical resources.
As a break from the book work, I'll show the class a vlog from YouTube, two tourists who come to Sai Gon and what they think of the city: https://www.youtube.com/watch?v=2iw_K-1AmVk
How do the tourists feel about the city ? As residents, do you agree with the review ?
Students can discuss the video using the following language:
I agree totally // I agree to an extent // I disagree // I'm not entirely sure // No way ! They don't know what they are talking about !
optimistic // uninformed // delusional // open-minded // enthusiastic
Group work: Prepare a guide to Sai Gon for tourists.
Allow students access to the class computer for Google images if required.
Include
What to see and do // where and what to eat // what to buy //
What they can do for entertainment
Travel tips
Safety and scams
Cultural differences – what should people do or NOT do in Vietnam ?
Use of interesting adjectives to describe the city centre.
Groups can then present to the class, with all students taking turns speaking. I shall be listening for relevance, pronunciation and use of expressions and discourse markers. Furthermore, I may learn some interesting tips.
My friend Andy is coming to Sai Gon
Using 'should' to give advice or information, make suggestions for Andy.
He loves history … what should he visit or see ?
He loves traditional food … what should he eat ?
He can't ride a motorbike … how should he travel ?
He likes a beer a night (!) … where should he go ?
My Thai friend is coming to Vietnam:
Ms Namsum is young and energetic. She's into (really enjoy) clubs, sightseeing and shopping.
I suggest she starts the day with a traditional bowl of pho then goes to Sai Gon centre. She can walk there from her hotel in District 1 or take a taxi (Vinasun or Malin ONLY). She will be out of the heat and has a lot of shopping choices and places to eat or grab a coffee. She could rest at her hotel in the afternoon, then go to Nguyen Hue walking street when it gets cooler in the evening. She has many restaurants in this area. Furthermore, there are many English-language menus. Finally, she can go to Bui Vien street where there are many clubs and bars, as well as many tourists speaking English.
What do they students think ? Is that a good plan ? Have I missed something important ?
Language to use:
I see your point
That's a good idea but …
If I may make a suggestion …
I'm not sure that's such a good idea.
For example – That's a good idea but you haven't thought about sightseeing.
Or
Bui Vien can be very noisy so I'm not sure that's such a good idea for a young lady on her own.
Two of my friends, Tom and David who are both actors, are coming to Sai Gon. The students, in groups, have to arrange a fun day including sightseeing, shopping, eating and transportation. Then they have to compare their itineraries and exchange views and opinions. The students learn how to politely disagree with each and put forward their ideas and support their choices.
PLAN A DAY FOR TOM & DAVID
Where can they eat ?
What could they see or visit ?
How can they travel around ?
What can they buy as souvenirs ?
Where could they go at night ?
What safety advice would you give ?
What you need to know:
Both are 45-years old. They have good jobs and a good income. They like history and culture. They really enjoy good food and wine. Neither speaks any Vietnamese. They are too old for very loud clubs but they don't mind having a few beers and maybe seeing some live music.
The students can make a presentation, and use the computer for images or maps to illustrate their plan. Then the other team can explain what they have organised, and the reasons why. I will decide which team has made the best choice.
Activity: Plan a day out for my friends.
I have two friends arriving in Sai Gon (or your city). They want a typical, authentic experience. Plan a day for them. It must include:
Breakfast
A museum
Somewhere for a snack
An interesting building or location
Lunch
Souvenir shopping
Something to do in the evening
Give tips and advice.
How do they travel around ?
What are their options and estimate the prices.
Try to use as much new vocabulary as possible, words and expressions.
Directions to Pham Ngo Lao Street District 1 // Directions to a city centre street.
Ask for help. Other must offer as much help – how to get there, the best way, the price, the dangers. Body language – distance, expression, intonation, eye contact etc
Is Sai Gon safe ?
Can you understand Vietnamese people speaking English ?
Do you agree with their points ?
Are there any words you didn't understand ?
Do you have any bad experiences ? Tell the class your anecdote.
Word bomb– what do you think of when I say 'hotel' ?
Checking in to a hotel
Vocabulary:
reception / lift or elevator / single or double room / king size bed or twins /
first floor / complimentary breakfast / key deposit / luggage storage / safe / mini bar
What would the conversation be ?
Reception: How may I help you / May I ask your name ? / Can I see your reservation code ? / That's fine. You stay for three nights ? / May I have your passport, please ? / You're in room 237. That's on the second floor / Thank you. Sign here, please / Yes, the lift is just over there. / Naturally, as well as a hair dryer, coffee machine and mini bar. / Enjoy your stay.
Guest: Hello, we have a reservation / We booked a room online / My name's ….. / Certainly, it's on my phone. / Yes, that's right. / Absolutely. / Correct. / Just a second; here you are./ Is there a lift ? / The second floor ? / Is there a safe in the room ? / Perfect. Thanks very much
Make a conversation. One student will be the reception, the other(s) a guest or guests.
Write your own conversation
You are in a hotel bar and you meet another guest. Start a polite conversation, but you have to use your English.
Greet each other
Why are you in this city ? (holiday or on business)
Offer to buy a drink (accept or decline – maybe you don't drink alcohol)
How long are they staying ? What do they think of the hotel ? What can they do in the area around the hotel ?
Small group work
You are two married couples who meet on a tour and are staying at the same hotel OR you are on a business trip and meet some other business people.
Use the following sentences, as well as your own, to make a conversation. try to keep speaking for as long as possible by using small talk techniques (oh, really / that's interesting / tell me more / what do you do exactly ? / where is that ? / Sounds interesting)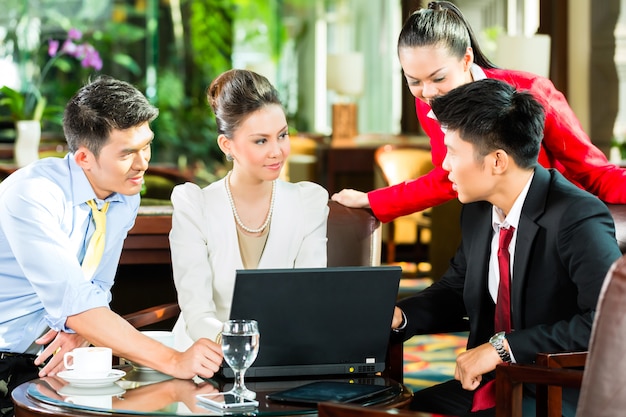 My wife and I are delighted to meet you
Shall we go to the bar or cafe ?
Can offer name first (I'm Simon, what's your name ?)
Would you fancy a drink … ?
Is there anywhere special to do here ?
Sorry, I have to get my head down, it's been a long flight (I need to sleep).
My colleague and I were going out to eat.
I fancy a beer or something alcoholic
Oh, I'm sorry, I didn't ask where you are from.
Reasonable (cheaper)
Would you like to join us ?
Peckish (little hungry)
What do you think of these hotel rooms ?
What do you think of the design ?
Would you like to stay in any of these ? Why, or why not ?
How much do you think they cost per night ?
Bangkok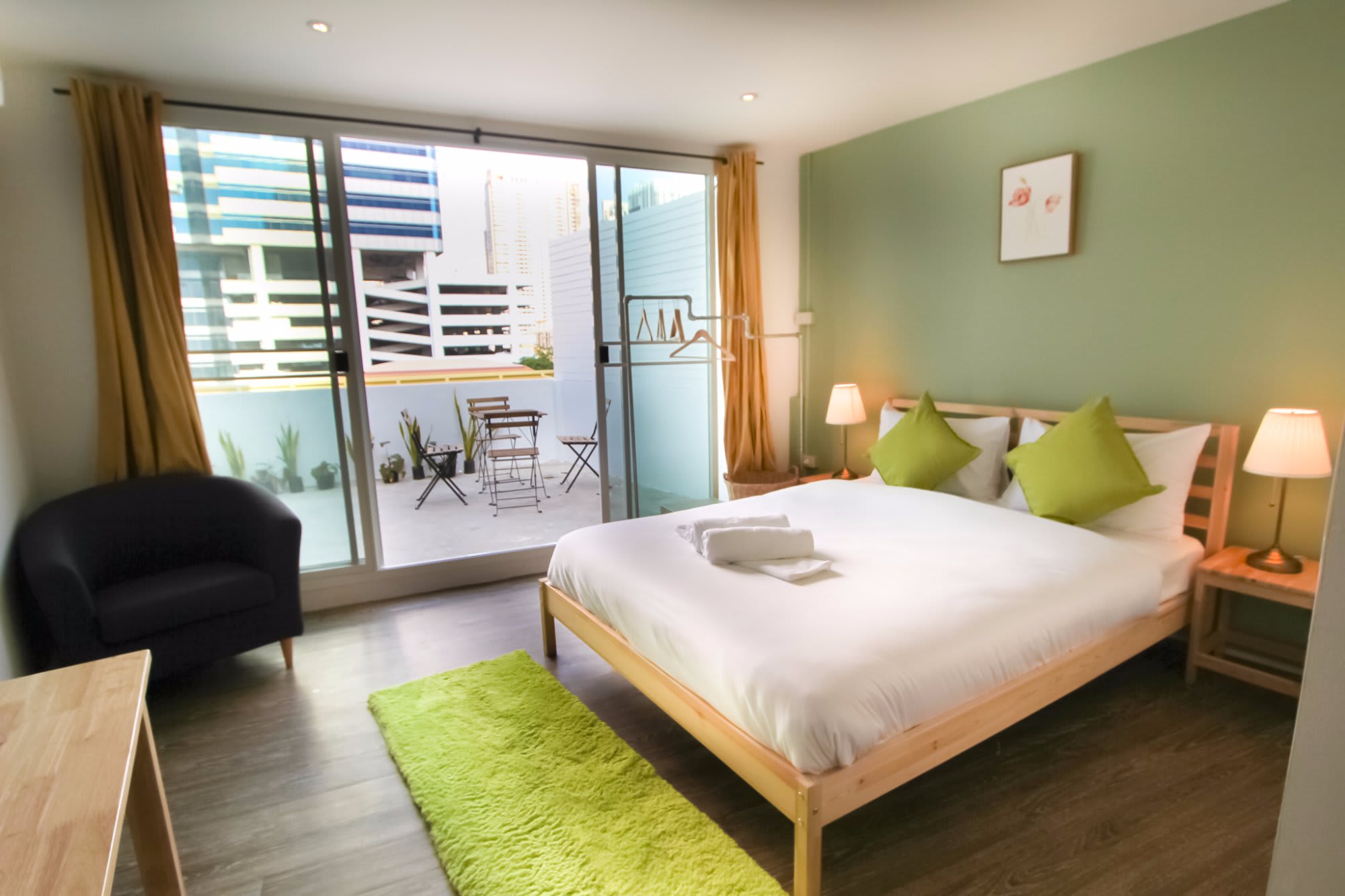 Ice hotel, Sweden
Backpacker hostel, Indonesia